340B Helps Achieve Hepatitis C "Gold Standard" At Boston Medical Center
by Admin | May 17, 2019 3:46 pm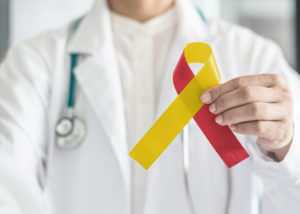 May 17, 2019– A recent study[1] highlights how the 340B drug pricing program helps a safety-net hospital provide critical treatment to patients with Hepatitis C (HCV) and improve health outcomes.
Published in the journal PLOS ONE, researchers at Boston Medical Center (BMC) found that the hospital's 340B savings enabled them to operate a primary-care based multidisciplinary HCV treatment program in which 97 percent of patients showed no signs of HCV in their blood three months after completing treatment – considered the gold standard[2] for HCV care.  
Approximately 3.9 million people in the U.S. currently are living with HCV, and approximately 20,000[3] people die every year due to the disease. New medications have made it possible to dramatically reduce the presence of the virus in a person's body. A sustained virologic response (SVR) indicates the amount of the virus has been reduced by more than 95 percent.
Those treatments come at a very high price and require hospitals to have specialized staff, which only adds to the cost. That's where 340B helps by allowing covered entities to buy these drugs at significant discounts.
The researchers studied the costs of administering the HCV treatment program with and without the support of the hospital's 340B savings. They estimated staff costs, drug costs, and procedural costs for the treatment program and calculated the impact that 340B savings has on total costs.
In 2017, BMC saved approximately $40 million through their 340B discounts. Through these savings, BMC was able to operate its entire HCV treatment program and save $930 per patient that they could invest back into the program. Without 340B discounts, BMC's HCV treatment program would produce an estimated net loss of $370 per patient. With that loss, the study says, the HCV treatment program likely would not exist – resulting in downstream negative impacts on patient health outcomes.
This study provides a casebook example of 340B at work. With 400 beds, BMC is the largest safety-net hospital and the busiest trauma and emergency services center in New England. In 2017, the hospital estimates it provided more than $90 million in uncompensated and unreimbursed care for the community but was able to offset some of those losses with 340B savings.
As the researchers note in their article: "The 340B Drug Pricing Program enabled a safety-net hospital to deliver effective primary care-based HCV treatment using a multidisciplinary care team. Efforts to sustain the 340B program could enable dissemination of similar HCV treatment models elsewhere."
Endnotes:
study: https://journals.plos.org/plosone/article?id=10.1371/journal.pone.0213745
gold standard: https://www.ncbi.nlm.nih.gov/pubmed/26845592
20,000: https://www.ncbi.nlm.nih.gov/books/NBK430897/
Source URL: https://340binformed.org/2019/05/340b-helps-achieve-hepatitis-c-gold-standard-at-boston-medical-center/
---