Faces of 340B: Building, Not Just Sustaining
by Admin | July 26, 2019 12:24 pm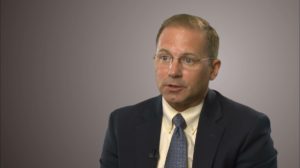 July 26, 2019— Because of 340B savings, patients in the metropolitan New Orleans area have access to specialty care that in some cases hasn't been available for decades.
LCMC Health is a five-hospital system based in the region, and Danny Jackson is the system's director of pharmacy as well as the newest profile in our Faces of 340B[1] video series. 340B savings are integral to the system's mission of providing high-quality primary, specialty, and sub-specialty services without regard to a patient's ability to pay, Jackson says. Without such assistance, many more of the region's patients would struggle with the affordability of their care. More than 60 percent of the patients that LCMC Health serves are uninsured, underinsured, or on Medicaid.
Jackson lists a burn center, a partnership with a coagulation and bleeding disorder center, and a bariatric program among the recently launched services that the system provides thanks to 340B. That's in addition to the comprehensive care for cancer, HIV/AIDS, hepatitis C, and more that the system provides for a diverse population.
340B program cuts would not deter LCMC Health from providing the same high quality of care to their patients in need. "If we're going to provide care, we're going to provide quality care," Jackson says.
But cuts could force the system to focus more on maintaining the level of specialty and sub-specialty care that it provides, rather than looking to possible areas of care expansion that would benefit the New Orleans region. "We would move into a sustaining mode," Jackson says.
Check out Jackson's video profile[2] at our Faces of 340B website.
Endnotes:
Faces of 340B: https://www.340bhealth.org/newsroom/faces-of-340b/
video profile: https://www.340bhealth.org/newsroom/faces-of-340b/danny-jackson/
[Image]: http://www.specificfeeds.com/widgets/emailSubscribeEncFeed/blVTZXlMWm96MEc0Rzl5MDhqaG5lS1ZYSVhkZlYwNURTb0RFWkZaZWhyL1FtU2U5Q3lUdi8wcWpSeFBhL251K21vVyt5cnVFclBjSU1wc3pTQ3NpcTMrcnJnM2NrRjBLeDY3M1dyU2dqNDIxNWhTVGhsdEkzdlVLMEJ5L2xHLzZ8emdHMHNrdjNhSWJDOWcvK29qaTFHNXBhaWtUcmE3eU9zTjlQdWRsTis3ST0=/OA==/
[Image]: https://www.facebook.com/sharer/sharer.php?u=https%3A%2F%2F340binformed.org%2F2019%2F07%2Ffaces-of-340b-building-not-just-sustaining%2F
Source URL: https://340binformed.org/2019/07/faces-of-340b-building-not-just-sustaining/
---