New Study: No Clinical Evidence Behind U.S. Price Hikes for Costliest Drugs
by Admin | October 15, 2019 1:43 pm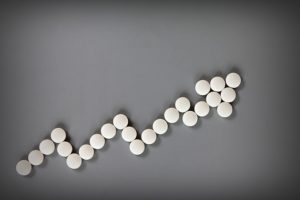 October 15, 2019— The manufacturers of seven widely used drugs raised their prices with no clinical evidence to support those increases, according to a new study by the Institute for Clinical and Economic Review (ICER), an independent research organization. These price hikes added $5.1 billion to the amount Americans spent on prescription drugs between 2017 and 2018. Among the drugs are such top sellers as Humira, Cialis, Lyrica, and Truvada.
The ICER report examines whether there was "evidence of a substantial improvement in net health benefit" to justify a price increase. Several states, including California and Vermont, require manufacturers to report drug price increases and submit information to justify increases above a certain threshold. More states likely will follow with their own laws. The report comes while the U.S. Congress is debating a variety of proposals by leaders from both political parties to rein in prices for prescription drugs.
ICER looked at nine drugs that saw price hikes and found only two had evidence of improved clinical outcomes. The average list price increase for the nine drugs studied was 17 percent, more than twice the rate of medical inflation. Many of the drugs had been on the market for more than 15 years. Topping the list was Humira, a drug for rheumatoid arthritis and other chronic illnesses. It accounted for a $1.9 billion dollars in increased spending after a 15.9 percent price increase.
Value has become the benchmark for evaluating costly interventions, and drugs should be no exception. As the authors of the report state, "By identifying whether there is, or is not, new evidence of improved safety or effectiveness for drugs with substantial price increases, we hope we have taken an important first step in providing the public and policymakers with information they can use to advance the public debate on drug price increases."
When new evidence emerges that a treatment may be more beneficial than was previously known, some level of price increase may be justified. But without such data, serious questions remain.
Endnotes:
[Image]: http://www.specificfeeds.com/widgets/emailSubscribeEncFeed/blVTZXlMWm96MEc0Rzl5MDhqaG5lS1ZYSVhkZlYwNURTb0RFWkZaZWhyL1FtU2U5Q3lUdi8wcWpSeFBhL251K21vVyt5cnVFclBjSU1wc3pTQ3NpcTMrcnJnM2NrRjBLeDY3M1dyU2dqNDIxNWhTVGhsdEkzdlVLMEJ5L2xHLzZ8emdHMHNrdjNhSWJDOWcvK29qaTFHNXBhaWtUcmE3eU9zTjlQdWRsTis3ST0=/OA==/
[Image]: https://www.facebook.com/sharer/sharer.php?u=https%3A%2F%2F340binformed.org%2F2019%2F10%2Fnew-study-no-clinical-evidence-behind-u-s-price-hikes-for-costliest-drugs%2F
Source URL: https://340binformed.org/2019/10/new-study-no-clinical-evidence-behind-u-s-price-hikes-for-costliest-drugs/
---