Faces of 340B: "It Made Life a Lot Simpler."
by Admin | November 20, 2019 8:04 am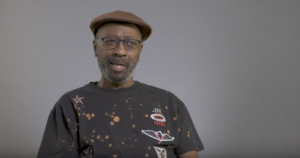 November 20, 2019- Michael Hutson won't soon forget a conversation he had with a pharmacist while recovering from kidney transplant surgery at Einstein Medical Center in Philadelphia. The pharmacist said the medication Michael needed to take to ensure his body would not reject his new kidney cost $90,000, so Michael needed to make sure he didn't lose the pills.
Michael was less concerned about the risk of losing the drugs as he was about his ability to afford the steep co-payment that came with the life-saving medication.
"The co-pay was astronomical," Michael said. "After the transplant I couldn't work, so there was no way for me to earn money to pay a $500 co-pay."
That's when a social worker at Einstein introduced the patient to the hospital's 340B program, and it made "life a lot simpler," Michael said.
Michael is the newest patient profile in our Faces of 340B[1] video series. Thanks to 340B, Michael didn't have to pay any additional money to receive the drugs he needed following the transplant surgery. Instead, he could focus on his recovery. This has included daily walks and ensuring he takes his medications as directed each day.
Michael describes how just before he was discharged from Einstein, he met with a hospital pharmacist who went over how to take each of his medications, potential side effects, and the importance of taking his pills on time and at the same time every day. This level of pharmacy support is another way that 340B helps hospital patients such as Michael become healthy and stay healthy.
"He had an actual number system because a lot of the medications I couldn't pronounce," Michael said.
Michael's recovery from the surgery also has included support group meetings at Einstein with other kidney disease patients. Through these meetings, Michael has learned that kidney disease is far more common in his community than he realized. He has formed a bond with others in the group and has heard how his fellow patients are similarly concerned about the cost of medication co-pays, because they also are on fixed incomes and can't work as they recover.
The 340B support that Einstein can provide these patients comes as a big relief to many of them. Michael says he has seen friends panicked about not being able to afford the medication they need to become healthy before learning that Einstein has the resources to help them.
"There's a real important need for these programs, because without the medication the transplant is not going to work," Michael explained. "Without the program, what are we going to do? I don't know what I would have done, and I don't know how my friends would have even accomplished what they needed to accomplish."
Check out Michael's video profile[2] on our Faces of 340B page.
Endnotes:
Faces of 340B: https://www.340bhealth.org/newsroom/faces-of-340b/
video profile: https://www.340bhealth.org/newsroom/faces-of-340b/michael-hutson/
Source URL: https://340binformed.org/2019/11/faces-of-340b-it-made-life-a-lot-simpler/
---