From the Grassroots: Policymakers Learn About 340B's Impact
by Admin | November 21, 2019 5:39 pm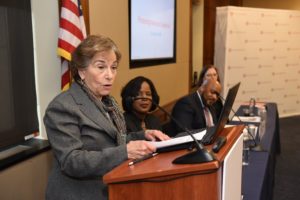 November 21, 2019– Leaders from three 340B hospital systems were on Capitol Hill on Nov. 20 to educate policymakers about the critical role the 340B drug savings program plays in supporting the nation's health care safety net.
An audience of congressional staffers, patient advocates, community leaders, and others attended a special briefing organized by 340B Health to hear about the ways 340B helps provide care to patients living with low incomes and those in rural areas. As lawmakers continue to debate the issue of access and affordability of care, these hospitals continue to make the case that 340B savings are instrumental in ensuring that safety-net providers can meet the needs of all their patients.
Congresswoman Jan Schakowsky (D-Ill.) kicked off the briefing with a powerful statement about the importance of 340B to Illinois patients she represents and patients living across the U.S. She shared the story of a constituent who was diagnosed with cancer and was unsure how she would afford her treatment until the Chicago-based hospital system Advocate Health Care provided her with financial support through its medication assistance program.
340B "obviously is essential to people in my district," the congresswoman said. "With skyrocketing drug prices, 340B is literally – literally – a lifesaver." She called on Congress to protect 340B and promised to lead that fight.
Lessons from the Field
Leaders from hospital systems throughout the mid-Atlantic region talked about the myriad ways 340B allows them to fulfill their missions and care for those who might otherwise go without.
Roslyn Brock, the chief advocacy officer at Bon Secours Mercy Health, a 48-hospital system based in Marriottsville, Md., discussed the specific ways in which the patient assistance enabled by 340B aligns with the system's faith-based, compassionate patient care mission. She told the moving story of a terminally ill oncology patient who was able to live out her remaining days with dignity at home because of the palliative therapies that Bon Secours provided at a deep discount using 340B savings.
Cedric Terrell, the senior vice president and chief pharmacy executive at Novant Health, a 15-hospital system based in Winston-Salem, N.C., described how his system provided $883 million in community benefits in 2018 thanks in large part to $149 million in 340B savings that year. In addition to providing significant financial assistance and uncompensated care, Novant also uses 340B savings to team up with community partners in reaching more underserved patients through mobile health units, wellness centers, and primary care clinics. This includes the recent opening of the Novant Health Michael Jordan Family Medical Clinic in partnership with the former Chicago Bulls star.
Cindy Williams, vice president and chief pharmacy officer at Riverside Health System based in Newport News, Va., shared several examples of how her system's patients are able to afford medications for their chronic conditions due to direct 340B financial assistance and access comprehensive treatment for serious illnesses such as opioid use disorders. The program also generates savings for Riverside that enable it to be the only provider of such specialized services as obstetrics, stroke treatment, and oncology for Virginia's remote and rural Eastern Shore.
The Education Continues
Together, the presentations gave briefing attendees a deeper understanding of some of the many ways in which safety-net hospitals adapt the support they receive from the 340B drug savings program to the specific health needs of their communities.
"Those who set national health policy need to hear directly from hospital leaders such as these who are at the vanguard of our national health care system," said Kathryn DiBitetto, vice president of government relations at 340B Health. "Real-life examples of how 340B makes it possible to care for patients is the best evidence Congress needs to protect 340B."
Endnotes:
[Image]: http://www.specificfeeds.com/widgets/emailSubscribeEncFeed/blVTZXlMWm96MEc0Rzl5MDhqaG5lS1ZYSVhkZlYwNURTb0RFWkZaZWhyL1FtU2U5Q3lUdi8wcWpSeFBhL251K21vVyt5cnVFclBjSU1wc3pTQ3NpcTMrcnJnM2NrRjBLeDY3M1dyU2dqNDIxNWhTVGhsdEkzdlVLMEJ5L2xHLzZ8emdHMHNrdjNhSWJDOWcvK29qaTFHNXBhaWtUcmE3eU9zTjlQdWRsTis3ST0=/OA==/
[Image]: https://www.facebook.com/sharer/sharer.php?u=https%3A%2F%2F340binformed.org%2F2019%2F11%2Ffrom-the-grassroots-policymakers-learn-about-340bs-impact%2F
Source URL: https://340binformed.org/2019/11/from-the-grassroots-policymakers-learn-about-340bs-impact/
---