The 340B Program Has a New Podcast
by Admin | May 18, 2020 4:34 pm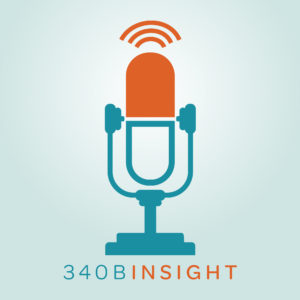 May 18, 2020— If your job requires you to keep up to date on the latest developments in the 340B drug pricing program, 340B Health has a new podcast designed to keep you informed and in touch with the nation's top 340B experts.
340B Insight[1] launched today featuring an exclusive interview with Rear Admiral Krista Pedley, the leader of the government agency that oversees the 340B program. She spoke with 340B Health President & CEO Maureen Testoni about a range of topics, including new federal flexibility for safety-net hospitals during the COVID-19 pandemic, compliance with program audits, and how the public health emergency has affected the staff at her federal agency.
We will be unveiling episode two later this week, after which we plan to release a new episode about twice a month. Each episode will be about 20 minutes long so that you can easily stay informed while commuting to or from work or whenever it is convenient for you. In addition to the latest news updates, some of the topics you can expect to hear about from government and private sector experts in the coming months include:
340B hospital responses to the COVID-19 public health emergency
The latest research on the patient health benefits of 340B
340B's role in rural health care access
How 340B helps hospitals prepare for natural disasters
340B patient care delivery innovations
We also will be answering listener questions on some of our episodes. You can email the podcast a question or a suggestion about the types of topics you want to hear covered.
340B Insight is available on Apple Podcasts, Google Play, Spotify, or wherever you get your podcasts. Be sure to subscribe[2] so you automatically receive every episode as soon as it is released.
Endnotes:
340B Insight: http://www.340binsight.org/
subscribe: https://link.chtbl.com/subscribe-to-340b
[Image]: http://www.specificfeeds.com/widgets/emailSubscribeEncFeed/blVTZXlMWm96MEc0Rzl5MDhqaG5lS1ZYSVhkZlYwNURTb0RFWkZaZWhyL1FtU2U5Q3lUdi8wcWpSeFBhL251K21vVyt5cnVFclBjSU1wc3pTQ3NpcTMrcnJnM2NrRjBLeDY3M1dyU2dqNDIxNWhTVGhsdEkzdlVLMEJ5L2xHLzZ8emdHMHNrdjNhSWJDOWcvK29qaTFHNXBhaWtUcmE3eU9zTjlQdWRsTis3ST0=/OA==/
[Image]: https://www.facebook.com/sharer/sharer.php?u=https%3A%2F%2F340binformed.org%2F2020%2F05%2Fthe-340b-program-has-a-new-podcast%2F
Source URL: https://340binformed.org/2020/05/the-340b-program-has-a-new-podcast/
---