340B Providers Need to Stay Informed During the Pandemic
by Admin | July 6, 2020 1:44 pm
July 6, 2020— The first half of 2020 has been a challenging time for our nation and for covered entities participating in the 340B drug pricing program.  Hospitals, health centers, and clinics have spent most of the year mobilizing their COVID-19 responses while continuing to work tirelessly to care for underserved patients with a variety of chronic and acute medical challenges.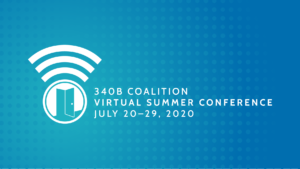 Providing key information and support for these dual patient missions is a primary focus of the 340B Coalition Virtual Summer Conference[1], which will occur over five days from July 20-29. While protecting the health and safety of all involved is, of course, our primary concern, finding a way to hold the conference was critical as 340B has played a primary role in supporting much of the needed work.
340B Health is a member of the 340B Coalition and is proud to be helping move this annual conference to a virtual event this year. The Coalition is planning 50 sessions with more than 90 expert speakers over the five days, which is roughly the same number of sessions as our typical in-person conference.
One key benefit to the conference's online format is that many of the 50 sessions will be available on demand for 90 days following the event, so attendees can watch sessions on their schedule and earn even more continuing education (CE) credits.
Obtain the Latest 340B Intelligence
The conference will help attendees stay informed on the latest 340B developments related to the COVID-19 pandemic. Sessions will cover regulatory flexibilities that the Health Resources & Services Administration (HRSA) has granted covered entities during the emergency as well as case studies on how providers have responded to the public health emergency.
But the conference also will include numerous sessions designed to help covered entities run effective 340B programs long after the emergency has ended. These sessions will focus on such topics as compliance and operations, best practices for using 340B savings on clinical care, and program advocacy skills.
Session highlights include:
COVID-19 Roundtable
HRSA Mid-Year Updates: Registration, Recertification, Technical Assistance, and More
Medicaid Billing and Reimbursement, featuring John Coster, Director of the Division of Pharmacy at the Centers for Medicare & Medicaid Services
340B Grantee Audit Roundtable
340B's Role in the Emerging World of Telemedicine
Addressing the Challenge of Diabetes with 340B Savings
The Role of 340B in Advancing PrEP
State Issues Roundtable
Be Informed About HRSA Priorities, Health Disparities, and More
Several national health care leaders will be among the faculty at this summer's conference.
HRSA Administrator Thomas Engels will discuss the agency's role in the national response to COVID-19 and bring us up to date on the effort to End the HIV Epidemic in America.
Office of Pharmacy Affairs Director Rear Admiral Krista Pedley will update attendees about the top program issues her office has been focused on during the pandemic. In addition, members of her staff will be previewing new forms that covered entities will be expected to use for upcoming 340B recertification.
Reed Tuckson, the managing director of Tuckson Health Connections, will discuss health care disparities, which have become a major element of the national conversation on race in recent months.
We also will receive an update from Apexus, the prime vendor for the 340B program.
Reconnect With Your Colleagues  


One of the benefits of attending the conference has been to connect with other professionals working in the 340B program, and the virtual conference will be no exception. The conference's online platform will include instant messaging chat and live video capabilities for one-on-one and small group conversations. Additionally, the conference "lounge" will provide virtual roundtables for groups to discuss specific topics.
The conference also will feature an exhibit hall where attendees can meet with exhibitors to learn about the latest products and services to help them manage their 340B programs.
Watch the video below for a sneak peek of what to expect at the conference. You can learn more here[2], and we will see you in just a couple weeks!
Endnotes:
340B Coalition Virtual Summer Conference: http://www.340bsummerconference.org/
here: https://www.340bsummerconference.org/Sc20/Registration/Sc20/Registration/Registration.aspx?hkey=f1fcab0c-9bfb-4be9-be5e-3147ba7d6cd7
https://340binformed.org/wp-content/uploads/2020/07/2020_340B_Coalition_Virtual_Summer_Conference.mp4: https://340binformed.org/wp-content/uploads/2020/07/2020_340B_Coalition_Virtual_Summer_Conference.mp4
[Image]: http://www.specificfeeds.com/widgets/emailSubscribeEncFeed/blVTZXlMWm96MEc0Rzl5MDhqaG5lS1ZYSVhkZlYwNURTb0RFWkZaZWhyL1FtU2U5Q3lUdi8wcWpSeFBhL251K21vVyt5cnVFclBjSU1wc3pTQ3NpcTMrcnJnM2NrRjBLeDY3M1dyU2dqNDIxNWhTVGhsdEkzdlVLMEJ5L2xHLzZ8emdHMHNrdjNhSWJDOWcvK29qaTFHNXBhaWtUcmE3eU9zTjlQdWRsTis3ST0=/OA==/
[Image]: https://www.facebook.com/sharer/sharer.php?u=https%3A%2F%2F340binformed.org%2F2020%2F07%2F340b-providers-need-to-stay-informed-during-the-pandemic%2F
Source URL: https://340binformed.org/2020/07/340b-providers-need-to-stay-informed-during-the-pandemic/
---