Bipartisan Bill Would Protect 340B Status During Emergency
by Admin | July 8, 2020 2:56 pm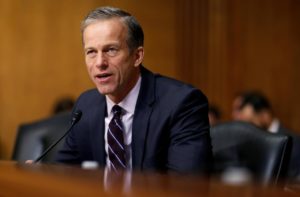 July 8, 2020— New bipartisan legislation introduced by six senior members of the U.S. Senate would protect hospitals from losing eligibility for the 340B drug pricing program during the COVID-19 health emergency. The bill (S. 4160) was introduced July 2 by Sen. John Thune (R-S.D.), the majority whip and second-ranking member in the Senate. Thune was joined by five original sponsors – Sens. Tammy Baldwin (D-Wis.), Shelley Moore Capito (R-W.Va.), Ben Cardin (D-Md.), Rob Portman (R-Ohio), and Debbie Stabenow (D-Mich.). All six senators are longtime supporters of 340B.
The legislation seeks to address the potential of some 340B hospitals losing eligibility due to changes in their patient mix because of the COVID-19 pandemic. Many 340B hospitals are required to maintain a minimum disproportionate share percentage to qualify for the discounts in outpatient drug prices provided by the program. Those percentages are based on the proportion of patients with low incomes who are enrolled in Medicaid or in Medicare/Supplemental Security Income (SSI).
To prepare for treating COVID patients, many hospitals have had to postpone most non-emergency services to prevent the spread of COVID-19 and limit their hospital admissions to reserve space for COVID-19 patients. That can lead to a change in patient mix as the number of patients with public coverage (Medicaid and Medicare) drops and the number of privately insured patients rises. If a hospital's DSH percentage changes too much within a Medicare cost report period, the hospital can lose 340B status and must wait up to a year to get back in the program. Losing 340B eligibility would be disastrous for safety-net hospitals and their ability to serve their communities.
The Thune legislation would remain in effect for as long as a hospital's 340B eligibility is based on a cost reporting period that occurs during the public health emergency. U.S. Health & Human Services Secretary Alex Azar declared such an emergency on Jan. 31, and it is scheduled to expire on July 25. An HHS spokesman has said Azar plans to extend the declaration by at least another 90 days.
Introduction of the legislation drew praise from 340B Health President and CEO Maureen Testoni. In a public statement[1], she noted, "We are pleased by this extraordinary show of bipartisan support for 340B hospitals serving on the front lines of the COVID-19 pandemic. This legislation will make sure safety-net hospitals will not lose their access to drug price discounts because of the changes in operation necessitated by the pandemic. This, in turn, protects patients at a time of public health emergency."
Testoni endorsed the legislation and called on congressional leaders to include the new bill in the next legislative package Congress considers in its response to the COVID-19 pandemic. Lawmakers are expected to take up such a package when they return to Washington in mid-July.
Introduction of the Senate bill comes two months after more than 120 members of the U.S. House sent a letter[2] to House and Senate leadership urging them to include a similar proposal in upcoming COVID-19 legislation. Led by Reps. Doris Matsui (D-Calif.) and Chris Stewart (R-Utah), the group included dozens of Democrats and Republicans. In addition, Sen. Ben Sasse (R-Neb.) has publicly called for enactment of similar legislation.
This flurry of activity does not ensure legislation will be enacted. But it increases its likelihood as Congress looks for ways to continue to support hospitals and other first responders in the COVID-19 emergency.
Endnotes:
public statement: https://www.340bhealth.org/newsroom/statement-on-the-new-senate-bill-to-support-340b-hospitals-during-the-covid-19-pandemic/
a letter: https://www.340bhealth.org/files/FINAL_Stewart_Matsui_COVID_340B_Letter.pdf
[Image]: http://www.specificfeeds.com/widgets/emailSubscribeEncFeed/blVTZXlMWm96MEc0Rzl5MDhqaG5lS1ZYSVhkZlYwNURTb0RFWkZaZWhyL1FtU2U5Q3lUdi8wcWpSeFBhL251K21vVyt5cnVFclBjSU1wc3pTQ3NpcTMrcnJnM2NrRjBLeDY3M1dyU2dqNDIxNWhTVGhsdEkzdlVLMEJ5L2xHLzZ8emdHMHNrdjNhSWJDOWcvK29qaTFHNXBhaWtUcmE3eU9zTjlQdWRsTis3ST0=/OA==/
[Image]: https://www.facebook.com/sharer/sharer.php?u=https%3A%2F%2F340binformed.org%2F2020%2F07%2Fbipartisan-bill-would-protect-340b-status-during-emergency%2F
Source URL: https://340binformed.org/2020/07/bipartisan-bill-would-protect-340b-status-during-emergency/
---