Faces of 340B: Coming Full Circle
by Admin | July 28, 2020 4:26 pm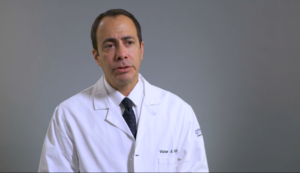 July 28, 2020 – The opioid epidemic over the last decade has resulted in a spike in hepatitis C infections, which the Centers for Disease Control and Prevention reports have more than tripled[1] since 2010. Public health and infectious disease experts believe that the common practice of sharing needles among people using opioids is a significant contributing factor to the rise in new hepatitis C cases and mortalities.
With a specialty in hepatology and liver transplantation, Dr. Victor Navarro has seen firsthand the link between substance use and hepatitis C. As Einstein Medical Center Philadelphia Co-Chairman of Digestive Disease and Transplantation, he shares the story of a patient treated at the 340B hospital. The experience drove home the value of the 340B drug pricing program in helping these patients not only gain access to treatment but the life-changing results that can ensue. 
Navarro is the newest provider in our Faces of 340B[2] series. In the video profile he explains how Einstein uses some of its 340B savings to send outreach personnel into opioid and alcohol treatment programs to help educate patients about their risk for hepatitis C and connect them with testing and treatment. For one patient who participated in Einstein's hepatitis C outreach program, his entire life trajectory changed.
"The young man was so benefited by his treatment and his interaction with our group and our addictions counselor, also supported by 340B, that he decided to pursue a career in recovery and therapy," Navarro said. "Now, he is carrying it forward by having become a licensed provider and sending us many patients, who, like him, benefit from our 340B program."
Navarro shares how 340B is critical to Einstein providing a wealth of services to its North Philadelphia community, which has become more underserved in recent years. In addition to serving an indigent population, 85% of Einstein's patients rely on Medicaid or Medicare.
340B Extends Pharmacists' Patient Reach  
Thanks to 340B, Einstein is putting pharmacists at the core of its care team for patients with hepatitis C. Navarro says that Einstein uses some of its 340B savings to staff its outpatient practice with pharmacists who work directly with patients to help them receive needed hepatitis C medications. As part of pharmacists' conversations with patients, they help patients learn about the disease, the treatments they need, and what they can anticipate in the recovery process.
"The pharmacists become a very important complement to the physicians and the mid-level providers that take care of these hepatitis C patients," Navarro said.
With 340B's support, pharmacy professionals' role in patient care at Einstein does not end there. Pharmacists and pharmacy technicians are deployed to many areas of care around the health system including Medication Assisted Treatment (MAT) for patients with opioid use disorder, and in the emergency and inpatient departments to help patients with medication reconciliation as they are discharged, which includes a greater understanding of how to take their medications, resulting in reduced hospital readmissions.
A great example of the support Einstein pharmacists provide with the help of 340B is the care that Einstein patient Michael Hutson[3] received following a kidney transplant. Before he was discharged, Michael met with a pharmacist who explained the importance of taking his anti-rejection medications on time and at the same time every day as well as how to take each of the medications and potential side effects. As a result, Michael had a successful recovery from his transplant procedure.
Navarro worries about the possibility of losing some or all of the system's 340B support. "The 340B program allows us to close that gap and continue to provide services across the board to all our patients," Navarro said. "Scaling back 340B could very well limit our ability to do that."
Check out Victor's profile [4]at our Faces of 340B webpage.
Endnotes:
more than tripled: https://www.cdc.gov/pwid/ido.html
Faces of 340B: https://www.340bhealth.org/newsroom/faces-of-340b/
Michael Hutson: https://340binformed.org/2019/11/faces-of-340b-it-made-life-a-lot-simpler/
profile : https://www.340bhealth.org/newsroom/faces-of-340b/victor-navarro/
Source URL: https://340binformed.org/2020/07/faces-of-340b-coming-full-circle/
---