Research Demonstrates 340B Hospitals' Work to Serve the Underserved
by Admin | June 25, 2021 4:02 pm
June 25, 2021–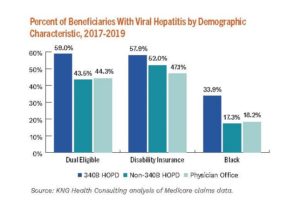 Tens of millions of people in the U.S. who are living with chronic diseases require access to regular care and support to help them manage their conditions and live their best possible lives. For too many patients of color, those living with disabilities, and those who have low incomes, the broader health care system often falls short in providing them the care and services they need. But the hospitals participating to the 340B drug pricing program are making big strides in altering that reality.
Recent research[1] took a deep dive into Medicare data to determine where these often-underserved patients go when they need outpatient care. The results clearly show that the patients receiving most of this care from 340B disproportionate share (DSH) hospitals are significantly more likely to be Black, disabled, or living with low incomes than the patients who receive most of their care from other kinds of hospitals or at private physicians' offices. This was consistent across the scope of the 27 chronic conditions that the researchers investigated.
For those familiar with the 340B program and the safety-net providers who participate in it, the results will not be surprising. To qualify for 340B, DSH hospitals must generally have a low-income patient caseload of roughly 30%, as measured by a Medicare DSH hospital formula. Most 340B DSH hospitals serve far more disadvantaged patients. Congress enacted the drug discount program with the express intention of providing critical resources to these hospitals to care for underserved patient populations as well as the uninsured and underinsured populations. The new report is additional evidence that 340B is meeting those big expectations.
"Our results are consistent with prior studies and demonstrate that 340B DSH hospitals serve as an important part of the safety net for people with a wide array of chronic conditions," the study authors concluded. "A strong network of 340B DSH hospitals is vital for the treatment and management of chronic diseases for America's low-income populations."
Reinvesting in Patient Care
When 340B drug savings are directed toward the hospitals that are serving more of the patients with chronic conditions who are most in need, the hospitals reinvest those resources into the services and support that do the most good for those patients.
Take the example of hepatitis C, a potentially deadly but treatable and now-curable disease that affected more than 50,000 people in 2018, according to estimates from the Centers for Disease Control and Prevention. New medications have made it possible for hepatitis patients to significantly reduce the presence of the virus in their bodies, but many patients need help in getting connected to medical care, affording these costly medications, and taking the drugs as needed to stay healthy.
That is where 340B comes into play. Using the savings that they gain through drug discounts, 340B hospitals direct funding towards programs that conduct hepatitis testing and care outreach at opioid use disorder treatment centers, offer low-cost medication options, and provide pharmacy support services to improve medication adherence among patients.
Such 340B-funded care and support is targeted toward the underserved populations that need it the most. For instance, more than a third of the hepatitis C patients receiving outpatient care at 340B DSH hospitals are Black, compared with the roughly 17-18% of patients receiving care at non-340B hospitals or doctors' offices. Despite Black people in the U.S. having lower rates of hepatitis C infections than non-Hispanic whites, Black Americans are nearly twice as likely to die from the illness. So the situation creates an opportunity for 340B hospitals to help achieve more care equity among people living with the disease.
340B's connection to care for the underserved also is evident for men with prostate cancer and women with breast cancer. Prostate cancer patients receiving their care at 340B hospitals are more than twice as likely to be eligible for both Medicare and Medicaid, indicating that they are living with low incomes, than those who are treated in non-340B hospitals. For breast cancer patients, the dual-eligible percentage at 340B hospitals is nearly twice as high.
People living in counties designated as low-income are more likely to die from all types of cancers, with rates of food insecurity, smoking, and obesity having negative effects. In recognition of the cancer-related needs of these communities, many 340B hospitals invest their savings in oncology services and support that they otherwise would not be able to offer. These include free or low-cost chemotherapy and other treatments for cancer patients living with low incomes as well as screenings and other educational events designed to connect with harder-to-reach communities.
Progress Toward a Worthy Goal
The new research contains much for 340B hospitals to be proud of.
"Congress created the 340B program to support safety-net hospitals, health centers, and clinics that treat patients who often are underserved by the broader health care system. This report documents the fact that the program is succeeding by providing additional resources that enable these providers to care for those most in need," 340B Health President and CEO Maureen Testoni said. "We are pleased to see this evidence that 340B continues to be a successful program that doesn't cost taxpayers anything."
But the fact that some patients with chronic conditions still are not obtaining the care they need and deserve means the job is not over. For as long as the U.S. health system falls short of achieving health equity for all, including people in underserved groups, the mission that providers have to their patients and communities will not be complete. Because this goal is so important, 340B hospitals are not resting on the progress they have made so far.
Read the full report[2] and see data briefs[3] for 15 of the conditions studied.
Endnotes:
Recent research: https://www.340bhealth.org/files/KNG_Health_340B_DSH_Hospitals_Final_Report.pdf
report: https://www.340bhealth.org/files/KNG_Health_340B_DSH_Hospitals_Final_Report.pdf
briefs: https://www.340bhealth.org/members/research/340b-and-chronic-conditions/
Source URL: https://340binformed.org/2021/06/research-demonstrates-340b-hospitals-work-to-serve-the-underserved/
---