Bipartisan Congressional Calls to Protect 340B Intensify
by Admin | August 4, 2021 2:57 pm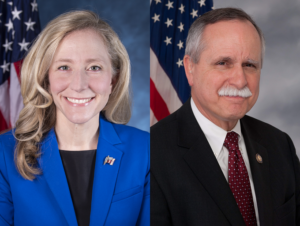 Aug. 4, 2021– A pair of lawmakers is working to advance the latest example of bipartisan, pro-340B legislation in Congress. Reps. Abigail Spanberger (D-Va.) and David McKinley (R-W.V.) recently introduced the Preserving Rules Ordered for The Entities Covered Through 340B Act, also known as the PROTECT 340B Act, and are gathering cosponsors from both sides of the political aisle.
The legislation (H.R. 4390) would prohibit discriminatory payment actions against 340B providers and contract pharmacies by pharmacy benefit managers (PBMs), health insurance plans, or sponsors of Medicare Part D prescription drug plans. The bill would prevent those companies from treating providers differently because of their participation in the 340B drug pricing program. It would ban discrimination in the form of inequitable reimbursement or fees, blocked participation in standard or preferred networks, additional requirements for inventory management systems, and interference with patients choosing to receive drugs from 340B community pharmacies. The legislation would authorize civil money penalties for violations of the law.
In recent years, some PBMs and payers have sought to cut payment to 340B covered entities, thus transferring program savings from the nonprofit providers to the for-profit companies. For example, Humana announced a discriminatory policy to pay significantly lower rates for 340B drugs than it pays for non-340B drugs. Similarly, Express Scripts, one of the nation's largest PBMs, recently mandated that pharmacies dispensing 340B drugs implement a complicated and never-before-used retroactive identification system for those claims. Spanberger refers to these practices as "pick-pocketing" 340B savings, and the bill would make this unlawful throughout the U.S.
Protecting 340B Eligibility
Introduction of the Spanberger-McKinley legislation is part of a growing trend of congressional champions standing up for 340B hospitals and other covered entities by objecting to drug companies and payers reducing 340B savings for these safety-net providers. These congressional efforts stand in sharp contrast to efforts in recent years to pass legislation limiting the scope of 340B. Those harmful proposals never made it past the committee stage, and so far no legislation limiting 340B has been introduced in the current Congress.
The nondiscrimination bill is not the only measure supporting 340B that is pending in Congress. In the Senate, a bipartisan group of lawmakers led by Sen. John Thune (R-S.D.) introduced a bill (S. 733) that would protect certain hospitals from losing 340B status due to changes in their patient case mix during the COVID-19 public health emergency. Rep. Doris Matsui (D-Calif.) led another bipartisan coalition of members in introducing similar legislation (H.R. 3203) in the House.
The bill would apply to hospitals that saw their Medicare disproportionate share (DSH) adjustment percentages drop below the minimum level required for 340B eligibility because of pandemic-related shifts in their patient populations. Without such protections, some hospitals could lose 340B eligibility for up to two years despite the critical roles they continue to play in serving patients living with low incomes.
Sending Drug Companies A Message
Spanberger and McKinley also are helping lead the charge on Capitol Hill against drug companies that are unlawfully withholding 340B discounts from safety-net providers.
The congressional duo successfully added language to a government funding package (H.R. 4502) supporting the efforts of the federal government to order pharmaceutical manufacturers to restore 340B pricing for certain drugs. Beginning in July 2020, a small group of drug companies has been denying discounts to 340B hospitals, health centers, and clinics on drugs dispensed to patients through community-based pharmacies.
Six of those companies – Eli Lilly, Novo Nordisk, Sanofi, AstraZeneca, Novartis, and United Therapeutics – have received letters from the Health Resources & Services Administration (HRSA) informing them that their actions violate the 340B statute and ordering them to restore discounts through community pharmacy arrangements. All six have gone to federal courts to try to block HRSA from enforcing those orders. In the meantime, a seventh drug maker, Boehringer Ingelheim, cut off 340B discounts through community pharmacies starting Aug. 1.
More than half of the members of the U.S. House of Representatives signed a letter to the Department of Health and Human Services (HHS) earlier this year urging it to take action to stop these practices. With the approval of the Spanberger-McKinley amendment, the House is now on the legislative record in support of enforcement actions against the companies that are violating the 340B law.
Speaking on the House floor, Rep. Spanberger said, "My 340B-related amendment sends a message to big pharmaceutical companies: Stop hiking drug prices on consumers and discriminating against our 340B providers and pharmacies."
340B Advocacy Efforts Continue
These 340B bills still require consideration and floor votes before they can become law, but introduction of the proposals signals that the 340B program has a growing number of supporters in both parties and both chambers on Capitol Hill. This is due, in large part, to sustained advocacy efforts by hospitals, health centers, and clinics.
In July, for instance, more than 200 hospital professionals representing 340B hospitals throughout the country participated in a virtual Capitol Hill "fly-in" by speaking to their elected officials and their staff about the need to protect 340B. Those discussions provided an opportunity for hospitals to demonstrate how 340B savings enable them to provide high-quality, affordable care to patients with low incomes and those living in underserved rural communities.
As more 340B advocates illustrate to lawmakers the importance of the program and the crucial roles that participating providers play in bolstering the health care safety net, more lawmakers throw their support behind these important legislative proposals.
Source URL: https://340binformed.org/2021/08/bipartisan-congressional-calls-to-protect-340b-intensify/
---