340B Hospitals on the Front Lines of the Fight for Health Equity
by Admin | July 8, 2022 1:39 pm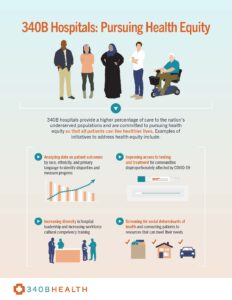 July 8, 2022– The national campaign to address deep inequities in health and health care in the U.S. will require comprehensive changes throughout the health care system. Safety-net hospitals participating in the 340B drug pricing program can be key forces in that movement for change.
A recent annual report[1] from 340B Health profiles seven hospitals and health systems that have made progress on the health equity front by deploying health access and quality improvement initiatives for the communities they serve. They are:
Abbott Northwestern, Minneapolis
Advocate Trinity Hospital, Chicago
MetroHealth, Cleveland
Our Lady of the Lake Regional Medical Center, Baton Rouge, La.
The University of New Mexico Comprehensive Cancer Center, Albuquerque, N.M.
Virginia Commonwealth University Medical Center, Richmond, Va.
Zuckerberg San Francisco General, San Francisco
Safety-net providers such as those profiled are central to the health equity issue because of the people in need whom they serve. 340B hospitals treat the largest percentages of patients who typically have been underserved by the health care system as a whole. They include patients who identify as Black, who are living with low incomes, and who are uninsured or underinsured. Hospitals' success in meeting their patient care missions often depends on closing gaps in care that those patients face.
Among 340B hospitals, there is no shortage of evidence for the progress that can come through a sustained commitment to the pursuit of health equity. That progress comes in the form of increased access to care and improved patient health outcomes.
Common Elements
340B hospitals and health systems are located throughout the U.S. and serve a wide range of geographic areas, from some of the most remote, rural regions to some of the largest metropolitan centers. Each hospital requires a customized approach to health equity that best meets the needs of the populations it cares for. 340B Health's annual equity report details how unique some of these tailored strategies can be, but it also makes clear how the best practices fit into several discernable themes.
340B hospitals realize that a commitment to data is a key element of a successful equity campaign. Collecting, analyzing, and applying this information will help identify where health disparities exist, develop strategies for addressing them, and track how effective those initiatives are in reducing them. When an approach works, the numbers back it up.
340B hospitals increasingly are setting their sights beyond the walls of their facilities to focus on the social determinants of health in the communities they serve that are directly connected to health inequities. This focus entails looking beyond just health access to the availability of jobs, homes, nutrition, education, transportation, translation, and more. It also involves working with established community groups to make progress on addressing these social determinants.
340B hospitals also are increasingly looking within their walls to see how well they are leading by example on the equity issue. To this end, they are pursuing initiatives to increase the diversity of their workforces, purchase more local goods and services, and invest more in their neighborhoods. This entails a recognition that, in addition to providing care, hospitals are employers, purchasers, and members of the community.
The Role of 340B
The savings that safety-net hospitals and health systems receive through 340B are an important element of the work they do to serve all their patients in need. Successful health equity strategies often require targeted services, patient support, and community benefits that cost more for a hospital to provide than any revenues they might bring in. In those cases, 340B savings can help close the gap.
For some hospitals, 340B is a major reason why they are able to be there in the first place. Hospitals operating on thin margins – especially smaller, rural facilities – often cite program savings as making the difference between staying open and closing their doors. For these hospitals, 340B is what enables them to serve not only patients who benefit the most from pursuit of health equity, but all their patients.
Read the full annual health equity report[1] to learn more.
Endnotes:
report: https://www.340bhealth.org/files/Health_Equity_2022_Final_06-16-22.pdf
Source URL: https://340binformed.org/2022/07/340b-hospitals-on-the-front-lines-of-the-fight-for-health-equity/
---