340B Helps Replace Emergency Care with Coordinated Care
by Admin | November 22, 2022 2:55 pm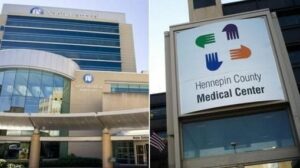 Nov. 22, 2022— No patient should be showing up in the emergency department as many as 20 times per year because of their chronic health conditions. But nearly a decade ago, the staff at Hennepin Healthcare in Minneapolis were noticing this happening among some of their patients with complex health care needs and multiple diagnoses. That is when the health system created an innovative solution to the problem with the help of its savings from the 340B drug pricing program.
Hennepin Healthcare used 340B savings to fund a coordinated care clinic to better support patients who were frequent visitors to the ED for conditions that could be treated with more preventive care. Relying on the ED to treat these patients when their chronic conditions became uncontrolled was more costly and inefficient for both the patients and the health system.
"By looking at those patients that frequently visited, we felt if we could have them come to the clinic instead of the emergency department, we could better focus on their needs," said Christene Jolowsky, the senior director of pharmacy for Hennepin. "The clinic was formatted for patients that did not need emergency care. We refer to this as an acute care clinic."
Hennepin's coordinated care clinic offers myriad services in one location, including primary care, medication therapy management, psychology, substance use disorder counseling, and housing support services. Many of these services are underfunded by public health programs, and that is where 340B resources come in.
"340B is supporting everything we do in our coordinated care clinic," Christene said. "We are able to provide someone to assist with housing. We are able to get the medications to the patient. We are able to have staff that can meet with the patient every week and fill a pillbox and talk to them about what is in that pillbox so they understand the importance of taking their medications."
We recently spoke with Christene on our 340B Insight podcast[2] to learn more about how the 340B-funded coordinated care clinic works for patients.
A Day at the Clinic
Christene and her colleagues at Hennepin identify patients who have three or more diagnosed health conditions and who have visited the ED three or more times in a calendar year. These are the patients they refer to the clinic.
Today, the clinic serves about 500 patients[3], and about half of them have unstable housing, about 60% have diagnosed mental health disorders, and about 70% have substance use disorders. This means the clinic must provide extensive support to help these patients manage their health needs.
During a typical visit to the clinic, a patient likely would see a physician or nurse, a pharmacist, and a social worker all in one place. Christene describes the experience as "high-touch." This is to ensure that the providers address all the factors affecting a patient's health care, including social determinants of health such as transportation, housing, and food access.
"We want to maximize the outcome of their therapies and their health care plan," Christene said.
Although patients visit the clinic on average once per month, some patients visit as often as once per day to ensure their health is staying on track. Staff at the clinic also need to be flexible with their schedules as patients sometimes come in without an appointment because they suddenly need care. Other times, patients might not make their appointments on time due to lack of access to reliable transportation.
"This is not a group of patients that we can handle virtually," Christene said. "We need to be present for these patients."
Improved Health Outcomes
Christene reports that the 340B-funded coordinated clinic has reduced ED visits for its patients, cut down on the number of medications that patients are prescribed, and lowered the cost to the overall health system of providing care to the clinic's patients.
One of the patients that Christine discusses on the podcast is an individual who had 12 pages of prescribed medications when he first came into the clinic.
"This not only highlights issues going on within this patient's life, it also shows how uncoordinated care really is because this patient was seeing multiple providers and nobody was overseeing everything that he was doing," Christene said. "When he met with one of our pharmacists, it took a while, but he went down from 12 pages of medications to four."
Another patient needed the clinic's support after suffering a stroke that led to short-term memory loss. The clinic used its funding to purchase an automated medication dispenser with an alarm to help ensure the patient remembered to take the medications he needed to manage several chronic conditions including atrial fibrillation, high blood pressure, and kidney disease. A pharmacist at the clinic also worked to synchronize the patient's medications so he could take them all at the same time each day. As a result, the patient's blood pressure and kidney disease have stabilized.
"It takes a lot of perseverance," Christene said when discussing the clinic's work with patients. "We're working with some fabulous human beings and we're able to care for some fabulous human beings that trust us for their care, and that's important."
Listen to our full interview[4] with Christene on your favorite podcast platform.
Endnotes:
[Image]: https://340binformed.org/wp-content/uploads/2022/11/Hennepin-Healthcare.jpg
340B Insight podcast: https://www.340bhealth.org/members/podcast/episode-60/
500 patients: https://www.340bhealth.org/files/Meeting_Varied_Community_Needs_with_340B_Savings.pdf
full interview: https://link.chtbl.com/4qUDtRdI
Source URL: https://340binformed.org/2022/11/340b-helps-replace-emergency-care-with-coordinated-care/
---