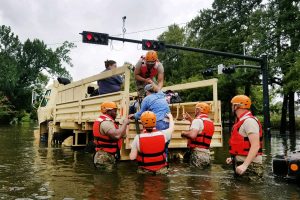 August 29, 2017—340B Health, the association of hospitals and health systems in the 340B drug discount program, expresses solidarity with its roughly 50 member hospitals in Texas and Louisiana and their staffs, families, and patients as they cope with the destruction and flooding wrought by Hurricane Harvey.
Texas has been hit especially hard by the massive storm, which is now menacing Louisiana.
FEMA says more than 30,000 people in Texas ultimately could need temporary shelter and more than 450,000 are expected to seek disaster assistance due to flooding. The slow-moving storm is dropping a historic amount of rain.
Many families of the staffs of Texas hospitals have been dislocated and will suffer hardships for months or years. The Texas Hospital Association has established a relief fund to help hospital employees who experienced significant property loss or damage. 340B Health is making a $1,000 donation and we encourage all to donate as well. Click here for more information and to donate now.
"We sincerely hope our Louisiana colleagues are spared the level of destruction experienced in Texas," 340B Health said today in an email to its members and associates. "We are monitoring the situation and will provide information on how to donate to relief efforts in Louisiana, if necessary."
According to news reports:
The basement of 340B Health member Ben Taub Hospital, part of Harris County Health District, flooded on Sunday, damaging food, pharmaceuticals, and supplies. It received a much-needed delivery of food and supplies on Monday. The Associated Press says the hospital transferred some patients Monday to other facilities to help make room for others once high water surrounding the hospital recedes. Ben Taub is one of Houston's two level 1 trauma centers.
340B Health member Lyndon B. Johnson Hospital, also part of Harris Health, is sheltering 150 Houstonians displaced by the flood.
Hours before the storm made landfall late last week, 340B Health members Cook Children's Medical Center in Fort Worth and Children's Medical Center of Dallas sent specially equipped airplanes to Corpus Christi to evacuate 10 infants from the neonatal intensive care unit of Driscoll Children's Hospital. The children are being cared for at Cook Children's.
340B Health members Memorial Hermann-Texas Medical Center and Texas Children's Hospital closed massive floodgates early Sunday to keep floodwaters out of their lower floors.
Baylor College of Medicine was closed Sunday and Monday. Baylor faculty and residents staff 340B Health members Ben Taub, LBJ, and Quentin Mease Hospitals and several Harris Health community health centers.
Twelve nurses from 340B Health member CHRISTUS St. Frances Cabrini Hospital in Alexandria, La., flew to Texas Monday night to volunteer at CHRISTUS Santa Rosa Medical Center in San Antonio, which accepted patients from hospitals hit by the hurricane.
In response to HHS Secretary Price's declaration of a public health emergency in Texas effective Aug. 25, and in Louisiana effective Aug. 27, HRSA's Office of Pharmacy Affairs has posted a notice on its home page about its guidance to 340B providers participating in relief efforts during such emergencies.
"HRSA recognizes that circumstances surrounding disaster relief efforts warrant flexibility for entities eligible for participation in the 340B Program," the notice says. "Therefore, HRSA is allowing eligible entities in Texas and Louisiana to immediately enroll for the 340B Program during the Public Health Emergency Declaration by the Secretary, rather than having to wait for the normal quarterly registration period. HRSA believes this will enable these entities to meet the needs of the residents affected by this disaster. If you are in Texas or Louisiana and would like to enroll, please contact the 340B Prime Vendor Program at apexusanswers@340bpvp.com or 1-888-340-2787."
The notice also links to more detailed information on OPA's Eligibility and Registration web page about 340B program flexibilities allowed during public health emergencies. It covers topics including patient eligibility, patient health records, the relationship between providers and volunteer health professionals delivering care, and maintenance of auditable records.