November 29, 2017—Hospital leaders from 23 states are on Capitol Hill today to urge passage of a bipartisan bill to stop deep reductions in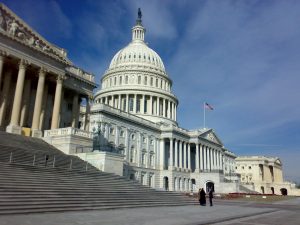 Medicare Part B drug payments to hospitals that participate in the 340B drug discount program. Across the country, meanwhile, 340B hospitals are contacting their lawmakers via email and social media to convey their deep concerns about the nearly 30 percent cut due to take effect on Jan. 1.
"We decided to conduct this emergency lobby day just two weeks ago and were blown away by the interest," said Ted Slafsky, President and Chief Executive Officer of 340B Health, which represents more than 1,300 hospitals and health systems in the 340B program. "There is tremendous concern among hospitals about the cut and how it is going to impact patient care. Some hospitals will have to reduce the amount of cancer care they provide and others are already planning for significant layoffs of staff."
Bipartisan legislation (H.R.4392) introduced in Congress would prohibit the Centers for Medicare & Medicaid Services (CMS) from implementing or enforcing a Nov. 13 final rule that would reduce Medicare Part B payments by an estimated $1.6 billion annually to 340B hospitals that provide a disproportionate share of care to low-income and rural patients. Introduced by Reps. David McKinley (R-W.Va.), Mike Thompson (D-Calif.), Bill Johnson (R-Ohio), David Kustoff (R-Tenn.), Joe Courtney (D-Conn.), and Kathy Castor (D-Fla.), the bill has 63 co-sponsors – 31 new ones in the past two days alone – and the number keeps growing. Hospitals are also challenging the CMS regulation in court.
Despite drug industry claims to the contrary, the CMS regulation won't lower drug prices or save money for Medicare or seniors, but it will devastate hospitals that care for very high volumes of low-income patients. 340B Health is organizing today's drive to rally support for H.R. 4392. 340B Health is also asking hospitals and friends of 340B nationwide to advocate for H.R 4392 online and use the hashtags #HR4392 and #StopHospitalCuts.
Since its enactment in 1992, 340B has successfully reduced the cost of drugs for hospitals, clinics, and health centers caring for poor patients. The law requires drug makers to reduce their prices for qualified providers. According to the latest government figures,  340B discounts reduced drug costs by $6.1 billion, helping to shore up the patient safety net in communities across the country. While those discounts represent only 1.3 percent of the total U.S. drug market, they allow hospitals and others to provide free or low-cost drugs to patients who are uninsured or underinsured and invest in critical services for patients living with cancer, HIV, and other life-threatening conditions. The 340B discount does not cost taxpayers a dime.
The looming Medicare payment reductions deeply concern hospital executives. "For our health system, this regulation means a cut of $5.5 million in 2018 alone," says Craig Ortego, Vice President of Oncology Services at Lafayette General Medical Center in Louisiana, who made the trip to Washington to urge passage of H.R. 4392. "We provided $18.7 million in uncompensated care in 2016. 340B savings fund our nationally recognized oncology program and enable us to have clinics in hard-to-reach rural areas around Lafayette. If this rule takes effect, we will have to make extraordinarily difficult decisions that will impact the services we provide."
"We save around $1 million a year through the 340B program," says Lelan Stice, Administrative Director of Pharmacy for Jefferson Regional Medical Center in Pine Bluff, Ark., who also traveled to Washington to lobby for H.R. 4392. "We use those savings to offset the cost of uncompensated care and to provide services such as health and wellness programs, diabetes education, discharge patient education and follow-up, and discounted medications, including very low-cost insulin. The CMS regulation exposes all of this to risk."
Cindy Williams, Vice President and Chief Pharmacy Officer for Riverside Health System in Virginia's Tidewater region, is also on Capitol Hill today urging passage of H.R. 4392. She says her organization, which includes two 340B eligible hospitals, saved almost $31 million in 2016 by participating in the 340B program.  "While that may seem like a large amount, we provided more than $216 million in uncompensated care during the same time period. 340B lets us provide services to the most vulnerable populations in our service area," Williams says. Riverside's main hospital in Newport News is the community's sole provider of trauma care, neonatal intensive care, comprehensive stroke care, and inpatient oncology intensive care. Riverside Shore Memorial Hospital is the only hospital serving the Virginia Eastern Shore.
The CMS regulation will allow drug makers to continue to charge whatever they think the market will bear and won't save Medicare any money.  While CMS claims Medicare beneficiaries will see $320 million in reduced cost-sharing for drugs, 86 percent of seniors have some form of supplemental coverage and will not see savings. Since the regulation will increase payments for other services, copayment costs will rise there as well.
The regulation, however, will significantly weaken the healthcare safety net. In response to a 340B Health survey, hospitals unanimously reported that the cut in payments would affect their ability to serve their low-income and rural patients including:
86 percent said it would affect their ability to provide clinical services, such as by having to close clinics or limit infusion services.
74 percent said it would affect their ability to provide pharmacy services, including staffing, offering discounted drugs, and operating programs such as medication therapy management.
More than two-thirds said it would affect their ability to provide uncompensated care.
Nearly half said it would impact quality of care and patient outcomes.
"Congress needs to stop these drastic cuts to hospitals that provide so much care to vulnerable patients," 340B Health President and CEO Slafsky says. "It's gratifying there's already broad and strong bipartisan support for this legislation. We urge more members of Congress from both parties to co-sponsor this legislation and ensure it is attached to a bill that must be passed before the end of this year."