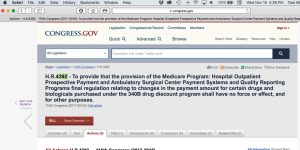 Nov. 15, 2017—A bipartisan group of U.S. House members has introduced a bill to nullify the Centers for Medicare & Medicaid Services (CMS) final regulation that slashes many 340B hospitals' Medicare Part B drug reimbursement by almost 30 percent.
Filed on Nov. 14, the bill, H.R. 4392, provides that the regulation's changes to payment for drugs and biologicals purchased under the 340B drug discount program "shall have no force or effect." In addition to the $1.6 billion reimbursement cut, the regulation requires all 340B hospitals to identify 340B drugs on claims forms when billing under the Outpatient Prospective Payment System starting Jan. 1, 2018. The bill has been referred to two committees: Energy and Commerce (which has jurisdiction over 340B) and Ways and Means (which has jurisdiction over Medicare).
Rep. David McKinley (R-W.Va.) is the bill's lead sponsor. The original co-sponsors are Reps. Mike Thompson (D-Calif.), Bill Johnson (R-Ohio), David Kustoff (R-Tenn.), Joe Courtney (D-Conn.), and Kathy Castor (D-Fla.). 340B Health issued a statement by President and Chief Executive Officer Ted Slafsky endorsing the legislation and applauding the lawmakers for their leadership on the issue. "We urge Congress to take swift action to approve this critically important legislation so that this misguided regulation cannot take effect on Jan. 1," he said.
"Protecting access to prescription drugs for low income communities should be a priority," Rep. McKinley said. "Unfortunately, CMS's misguided rule jeopardizes the ability of rural hospitals to provide vital services. This would have a huge impact on West Virginia hospitals' ability to provide affordable care. We led a bipartisan letter to CMS with nearly 250 signers, urging them to reconsider, but they didn't listen. This bill ensures that hospitals are able to continue providing affordable services, and gives rural families peace of mind."
"This rule dramatically undermines the ability of hospitals across the country to deliver care to our nation's most vulnerable populations. I'm disappointed that CMS did not listen to hospitals, nor a majority of members in the House and Senate, and approved a rule that puts both hospitals and patients at risk," said Rep. Thompson. "I will work with my colleagues on both sides of the aisle to stop this rule and ensure the 340B program can continue to serve low-income populations as Congress intended."
"We are especially thankful to Congressman McKinley for his leadership on this legislation," said David Ramsey, President and CEO of Charleston Area Medical Center in Charleston, W.Va. "The savings we are able to achieve thanks to the 340B program are the difference between keeping services and cutting them. The loss of funds under the CMS regulation would force us to consider further staff reductions at a time when our communities needs the services we offer most."