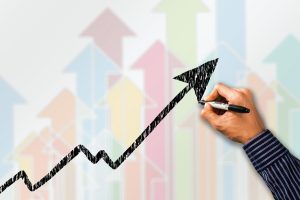 Feb. 15, 2018 – Rising drug prices will be a major driver of higher U.S. healthcare spending in the coming decade, new healthcare sending projections from the Centers for Medicare & Medicaid Services show.
According to CMS's annual projection, healthcare spending will grow an average of 5.5 percent a year from 2017 through 2026, led by prescription drug spending growth of 6.3 percent per year on average.
That's the largest average annual spending growth among the various healthcare goods and services categories, CMS notes, outpacing hospital care and physician and clinical services. CMS said higher projected drug spending "primarily reflects faster anticipated growth in drug prices, which is attributable to a larger share of drug spending being accounted for by specialty drugs over the coming decade." CMS published its projections in the subscription-based journal Health Affairs
Many, if not most, prescription drugs that the federal government pays hospitals and physicians for through Medicare Part B are specialty drugs. A federal regulation that took effect Jan. 1 slashed Medicare Part B drug reimbursement to hospitals in the 340B program by almost 30 percent. Just this week in its fiscal year 2019 budget, the administration said it wants to keep the cut in place and move the savings around in a way that results in some 340B hospitals taking even a bigger financial hit than others.
340B hospitals say this year's $1.6 billion cut in Medicare drug reimbursement is already having a negative impact. In a recent op-ed column in the Washington Examiner, Charleston Area Medical Center CEO David Ramsey estimated "the policy will reduce his hospital's drug savings by $7.4 million in 2018 alone. That will force us to reduce our workforce further and will result in a cutback in important services to our most vulnerable patients. The Trump administration has described the cuts as a way to lower co-pays to patients and reduce costs for the taxpayer. Neither of these arguments is accurate."
Elsewhere in its healthcare spending projections report, CMS predicted that, in the short term, its Personal Health Care Price Index will rise to 2.2 percent in 2018 from 1.4 percent in 2017, driven partly by "faster prescription drug price growth of 4.4 percent in 2018 (from 2.1 percent in 2017)." It said it expects drug prices will grow at a faster rate in the coming year because fewer brand-name drugs will be losing patent protection, meaning there will be fewer less-expensive generic drugs coming to market.