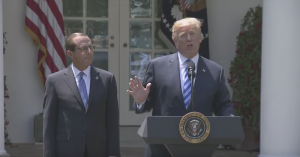 May 11, 2018—While the 340B drug pricing program played a minor supporting role in President Trump's drug pricing announcements today, it is certain to engender significant debate in the months ahead. The announcements made today no new policy proposals but did continue rhetorical attacks on the program.
The President never uttered the words "340B" but did reference the program indirectly. "My administration has already taken significant steps to get drug prices under control," the President said early in his Rose Garden remarks. "We reformed the drug discount program for safety-net hospitals to save seniors hundreds of millions of dollars on drugs this year alone."
The Trump team went further in documents posted for public consumption. In a fact sheet posted on the White House website, the administration said:
"Some hospitals that receive drug discounts under the 340B program, designed to help safety net facilities, do not provide meaningful levels of charity care to low-income and vulnerable patients, ultimately pushing up drug prices for patients with private health insurance."
There are two major flaws to that statement. First, the notion that 340B discounts push up drug prices for privately-insured patients is flat out wrong. 340B discounts amount to a very small portion of drug spending in the U.S. A 2015 analysis found the discounts were 1.3 percent of total U.S. drug sales. While that has edged up in the years since, it remains less than 2 cents on the dollar. Second is the focus on "charity care," which is only one element of what hospitals do with the 340B savings. It ignores uncompensated care and underpayments by Medicaid and other public payers.
The fact sheet refers to "a recently finalized change to Medicare [that] will save seniors an estimated $320 million in 2018 by reforming 340B drug payments." That controversial policy, which went into effect on Jan. 1, 2018, cut payments to 340B hospitals by nearly 30 percent, or $1.6 billion in total. That policy has been challenged in court and in Congress, where legislation (H.R.4392) to reverse the rule now has 197 sponsors. The administration's claim that the Medicare cuts are saving seniors money is dubious. The Medicare Payment Advisory Commission (MedPAC) estimates 84 percent of seniors on Medicare have a form of supplemental insurance (Medigap, employer-sponsored, Medicaid) that pays copays and coinsurance costs. At the same time, the Medicare policy change increased payments for non-drug services, therefore raising out of pocket costs for those types of care. The bottom line is the Medicare change does nothing to lower drug prices, doesn't save Medicare money, and doesn't help seniors save much money. What the cuts are doing is weakening 340B hospitals' ability to serve low-income patients.
Absent a court decision to the contrary, the administration believes it has the authority to continue those cuts in 2019. In the president's fiscal 2019 budget, the administration proposed doing just that and using part of the savings to increase payments to hospitals with high charity care levels and to keep the rest in the Medicare trust fund. 340B Health, which represents more than 1,300 hospitals enrolled in 340B, believes that policy would require Congress' approval, however,
The Department of Health & Human Services also released a 44-page "blueprint to lower drug prices and reduce out-of-pocket costs" that invites public comment on these 340B-related questions:
Would explicit general regulatory authority over all elements of the 340B Program materially affect the elements of the program affecting drug pricing?
Would changing the definition of "patient" or changing the requirements governing covered entities contracting with pharmacies or registering offsite outpatient facilities (i.e., child sites) help refocus the program towards its intended purpose?
Are the current mechanisms for identifying and preventing duplicate discounts effective?
Are drug companies paying additional rebates over the statutory 340B discounts for drugs that have been dispensed to 340B patients covered by commercial insurance?
What should be considered to improve the management and the integrity of claims for drugs provided to 340B patients in the overall insured market?
What additional oversight or claims standards are necessary to prevent duplicate discounts in Medicaid and other programs?
How has the growth of the 340B drug discount program affected list prices?
Has it caused cross-subsidization by increasing list prices applicable in the commercial sector?
What impact has this had on insurers and payers, including Part D plans?
Does the Group Purchasing Organization (GPO) exclusion, the establishment of the Prime Vendor Program, and the current inventory models for tracking 340B drugs increase or decrease prices?
What are the unintended consequences of this program?
What is the impact on drug pricing given that private insurers oftentimes pay commercial rates for drugs purchased at 340B discounts?
Do insurers, pharmacy, PBM, or manufacturer contracts consider, address, or otherwise include language regarding drugs purchased at 340B discounts?
In a statement to news organizations, 340B Health applauded the president for his efforts to rein in drug prices but also expressed deep concern that his administration's "continued misguided attacks on the 340B drug pricing program will lead to higher drug costs and less access to care for vulnerable patients."
"Americans are right to be concerned about the high cost of drugs and the impact it is having on their family budgets and ability to afford needed care," 340B Health said. "Drug prices are too high and they need to come down. The 340B drug pricing program is one of the few federal programs that curb drug costs that are working. Since it was enacted in 1992, 340B has saved billions in drug costs for safety-net providers and helped millions of low-income and rural Americans get needed care. Sadly, the administration's policy proposals would erode that progress and just put more money into the pockets of pharmaceutical companies."
With Congress looking toward the midterm elections in November there is not much time for lawmakers to work on legislation to enact some of the proposals into law this year. So a big question will be what actions the president can take on his own versus those that would require legislation to reach his desk.