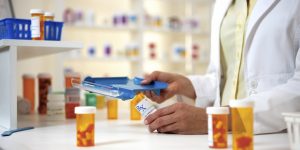 June 29, 2018—Healthcare providers in the 340B drug pricing program pass their savings along to low-income, underinsured patients through drug discounts at their in-house pharmacies or those they contract with, reduced fees at contract pharmacies, or in the form of charity care including free or discounted prescriptions, a new federal report has found.
The June 28 Government Accountability Office (GAO) report focuses mainly on federal oversight of compliance at 340B contract pharmacies and makes recommendations for improvement. It also examines how 340B providers use contract pharmacies to help dispense 340B drugs. The report found that 30 of 55 providers that completed a questionnaire for the report gave discounts to low-income, underinsured patients at some or all of their contract pharmacies. In addition, 13 of the 30 did not charge low-income, underinsured patients administrative fees for 340B drugs dispensed at contract pharmacies and six did not charge dispensing fees.
Some providers that did not provide discounts on 340B drugs at their contract pharmacies "assisted patients with drug costs through other mechanisms," the GAO said. For example, six of 10 providers that told the GAO in interviews that they did not provide such discounts said "they provide charity care to low-income patients, including free or discounted prescriptions," the study said. In addition, four providers that reported on the GAO's questionnaire that they did not offer discounts at contract pharmacies "said they provided patients with discounts on 340B drugs at their in-house pharmacies."
340B Health, which represents more than 1,300 hospitals and health systems in the 340B program, said in a statement that the new report confirms that "contract pharmacies play an essential role in helping uninsured and low-income patients get needed care, including, but not limited to, prescription drugs."
The group pointed to findings from its 2017 survey of 340B hospitals that found 87 percent of rural hospitals use their contract pharmacy benefit to maintain operations while large majorities of disproportionate share hospitals use their benefit to support uncompensated care (89 percent) and provide free or discounted drugs to patients (71 percent).
Seven Recommendations to Improve Oversight
Also in the report, the GAO cited areas in the Health Resources and Services Administration's (HRSA) oversight that "impede its ability to ensure compliance" with contract pharmacy requirements, including ensuring manufacturers are not subject to paying duplicate 340B discounts/Medicaid rebates when patients are enrolled in Medicaid managed care plans. It recommended that HRSA:
require 340B providers to register contract pharmacies for each site of the entity for which a contract exists
issue guidance to providers on how to prevent duplicate discounts under Medicaid managed care while working with the Centers for Medicare & Medicaid Services to coordinate with guidance provided to state Medicaid programs
incorporate an assessment of providers' compliance with the prohibition on duplicate discounts, as it relates to Medicaid managed care claims, into its audit process after guidance has been issued and ensure that identified violations are rectified by the entities
issue guidance on the length of time 340B providers must look back following an audit to identify the full scope of noncompliance identified during the audit
require all providers to specify their methodology for identifying the full scope of noncompliance identified during the audit as part of their corrective action plans, and incorporate reviews of the methodology into their audit process to ensure that those entities are adequately assessing the full scope of noncompliance
require all 340B providers to provide evidence that their corrective action plans have been successfully implemented prior to closing audits, including documentation of the results of the entities' assessments of the full scope of noncompliance identified during each audit
provide more specific guidance to providers regarding contract pharmacy oversight, including the scope and frequency of such oversight.
In comments attached to the report, HRSA disagreed about the need to require covered entities to register contract pharmacies for each site for which a contract exists. It also rejected GAO's recommendation that covered entities be required in audit corrective action plans to detail how they identified the full scope of their noncompliance and provide evidence to HRSA that all corrective action has been taken before their audit can be closed.
340B Health expressed concern that some of the GAO's recommendations "could make [340B] program participation significantly more cumbersome for hospitals without improving transparency or compliance."
Questionnaire Responses
The GAO sent questionnaires to 55 340B providers – 28 hospitals and 27 federal grantees – to get a picture of the extent to which 340B providers use outside pharmacies to dispense drugs and the nature of those contract pharmacy arrangements. It also examined 30 contracts between 340B providers and pharmacies and 20 HRSA audit files. GAO also interviewed HRSA officials, 10 covered entities, and two third-party administrators. Among GAO's findings:
About one-third of 340B providers (parent and child sites) utilize contract pharmacies. A higher percentage of hospitals (69.3 percent) had one or more contracts compared with 22.8 percent of federal grantees.
Critical access hospitals, which serve isolated rural communities, had the highest percentage among hospitals (74.1 percent) and federally qualified health centers the highest among grantees (75.2 percent).
Among covered entities with at least one contract pharmacy, disproportionate share (DSH) hospitals have the most on average (25 contract pharmacies) and critical access hospitals the least (4 contract pharmacies).
The five biggest pharmacy chains—CVS, Walgreens, Walmart, Rite-Aid, and Kroger—represented 60 percent of 340B contract pharmacies, but only 35 percent of all pharmacies nationwide.
Twenty-nine of the 30 contracts GAO reviewed included provisions for the providers to pay flat fees to contract pharmacies for each eligible 340B prescription. Flat fees were generally higher for hospitals than federal grantees, with most flat fees ranging from $15 to $25 per 340B prescription for hospitals, compared with $6 to $13 for grantees.
A larger number of federal grantees than hospitals (15 compared with 8) indicated their patients would pay the 340B price or less for their drugs at contract pharmacies where discounts were available. Hospitals, however, were more likely than grantees to provide discounts on fees patients may pay to contract pharmacies for 340B drugs.
According to the report, the actual number of 340B contract pharmacy arrangements—the number of contractual arrangements between contract pharmacies and the sites of a covered entity—is unknown because HRSA does not require a covered entity to register pharmacies with each of its child sites.