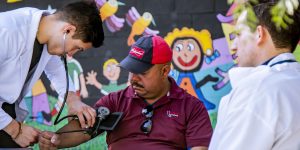 June 25, 2018—Rapid City Hospital in Rapid City, S.D., depends on money it saves through the 340B drug discount program to keep its neonatal intensive care unit open. In Chicago, Mount Sinai Hospital Medical Center recently was able to help an uninsured patient cover the $20,000 cost of drug treatment for a parasite, thanks to its 340B savings. Because of 340B, Johnson County Hospital in Nebraska has been able to keep its chemotherapy services in-house and maintain its home health program, helping patients ill with cancer avoid the ordeal of a 100-mile trip for treatment.
These are just some of the concrete ways hospitals reported using 340B savings to care for low-income and rural patients in a new survey report from 340B Health. The findings come amid a policy debate over whether Congress should require hospitals and other providers to report how they use their 340B savings. That concept was discussed during a U.S. Senate Health, Education, Labor, and Pensions (HELP) Committee hearing on 340B held on June 19.
The 340B program requires drug manufacturers to provide discounts on outpatient drugs sold to qualified safety-net hospitals, clinics, and health centers. Savings from those discounts allow 340B providers to serve more patients and offer more services at no cost to taxpayers.
Every hospital that took the 340B Health survey reported using its 340B savings to help pay for care for low-income and rural patients. Both disproportionate share (DSH) and rural hospitals also reported using those savings to maintain or increase uncompensated care (95 percent) and increase the type of services provided (89 percent).
There are, however, some key differences between DSH and rural hospitals. DSH hospitals reported using 340B savings to offset losses due to low payments by Medicaid (80 percent). Three-quarters of rural hospitals (74 percent) said they used 340B savings to keep their doors open and preserve access to care for their patients and communities.
Rural hospitals also highlighted the importance of contract pharmacies to serving their communities. Contract pharmacy arrangements account for more than half of rural hospitals' 340B savings, likely because rural hospitals often do not operate their own in-house pharmacies. The median, or typical, DSH hospital reported that less than one-fifth of its program savings were due to contract pharmacy arrangements.
All the hospitals surveyed, however, indicated that cuts to reimbursement or limits on eligibility for 340B would harm access to care for the low-income and rural patients and communities they serve. Three-fourths (75 percent) reported they would have to cut back on the amount of uncompensated care they provide. Nearly as many (70 percent) reported they would have to look for ways to cut costly but often underpaid services. Nearly 40 percent of hospitals also reported that cuts in 340B program savings would hurt their ability to provide discounted and/or free drugs to patients in need.
On Jan. 1, the federal Medicare program began cutting payments for Part B drugs delivered by many 340B hospitals. Those cuts of nearly 30 percent reduced Medicare payments to the hospitals by $1.6 billion in 2018. The survey was taken in November-December 2017, prior to the Medicare cuts taking effect. Legislation (H.R.4392) has been introduced in the House to reverse those cuts and has nearly 200 cosponsors but has not seen any action.
340B hospitals also reported that they are dedicating resources to ensuring full compliance with federal rules, including audits by the Health Resources and Services Administration (HRSA), the agency that oversees the 340B program. Across all hospitals, compliance costs consume up to $200,000 a year and require between 1 and 3 full-time employees to work solely on meeting government requirements. Compliance costs for rural hospitals were lower – less than $100,000 a year – but had a much more significant impact on those facilities, eating up an average of 20 percent of 340B savings.
"This is crystal clear evidence that the money saved from 340B drug discounts is being invested in more care for vulnerable patients and the expansion of needed, but often underpaid, services," said Maureen Testoni, Interim President and Chief Executive Officer of 340B Health. "The findings illustrate the critical role that 340B plays in preserving the healthcare safety net."
This is 340B Health's first comprehensive annual survey of its 1,300+ nonprofit hospital and health system members about their participation in the 340B drug pricing program.  Past surveys looked at discrete aspects of members' participation. The new annual survey is designed to provide useful information to policymakers and stakeholders on how the program operates in communities across the country. It also allows participating hospitals to benchmark their program activity against that of others and learn more about best practices. The 2017 survey was fielded in November-December 2017.