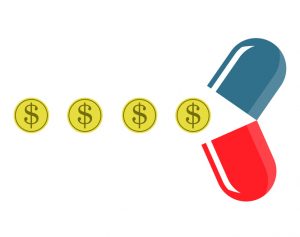 July 6, 2018—There's new evidence that pharmaceutical manufacturers have not gotten the message that the Trump administration and the American public want an end to rising drug prices.
Research documenting a host of drug price increases in June and July above the rate of inflation could complicate the Trump administration's advocacy for its drug pricing blueprint, which largely avoided the President's tough rhetoric about the drug industry during his presidential campaign.
The new drug pricing report by industry analysts at Wells Fargo Securities shows there were a total of 104 drug price increases in the first two day of July alone. Generic drug manufacturer Northstar, for example, more than doubled its price (+109 percent) for the widely used antibiotic ciprofloxacin and boosted what it charges for the mainstay antibiotics penicillin (+65 percent) and amoxicillin (+27 percent). Acella Pharmaceuticals, meanwhile, raised the price of aspirin by 20 percent.
News of the price increases could strengthen the hand of supporters of the 340B drug pricing program. Next week, The U.S. House Energy and Commerce Health Subcommittee is holding a legislative hearing to discuss more than a dozen 340B bills, including several that could serve to weaken the 340B program and, in turn, the safety net. The new findings about continuing drug price increases will hand 340B's backers a powerful argument.
Multiple Price Increases
For many drugs, the July price hikes mark the second time in less than a year that manufacturers increased what they charge. Industry leader Pfizer increased prices on 41 of its products. Wells Fargo observed that 29 of Pfizer's 41 increases were approximately 9.4 percent – far in excess of the current 2.8 percent rate of inflation – and that some of the affected products also saw price increases in January. For instance, Pfizer is charging about 20 percent more for Viagra today than it was at the end of last year despite the drug having recently gone generic and now being available for a fraction of Viagra's cost.
The July price increases came on top of the 63 that Wells Fargo identified for the month of June. The average increase was 31.5 percent. Wells Fargo noted that drug manufacturer Teva was responsible for 14 of the increases, "with nearly all of these in the brand area covering long-term medications such as ADHD treatments, cancer pain therapies, oral contraceptives," and Teva's new drug for Huntington's disease, Austedo.
"Given the current political and social sensitivity regarding the cost of healthcare, price hikes at rates a multiple of the rate of inflation seem indifferent to the current environment," Wells Fargo said.
Complicating the Push for Trump's Blueprint
The recent spate of price hikes is likely to complicate the Trump administration's push on behalf of its strategy for lowering drug costs. President Trump and Secretary of Health and Human Services Alex Azar unveiled the administration's blueprint during a mid-May Rose Garden ceremony. President Trump took a very hard line against the drug industry during his campaign for office and as President-elect, for example saying just days before being sworn in that pharma was "getting away with murder" and had too much power.
For the most part however, the administration's long-awaited drug pricing blueprint avoided policy options anathema to the drug industry such as drug importation and giving Medicare the power to negotiate drug prices with manufacturers. It focused more on speeding the introduction of generics into the market, getting foreign countries to pay more for prescription drugs so Americans can pay less, and stopping the gaming of drug patent protection to protect monopolies.
Continued drug price increases in excess of inflation could put pressure on the administration to take stronger action.
Countering Calls to "Reform" 340B
Altering the 340B drug discount program also figures in the administration drug pricing plan. In a fact sheet, the administration claimed that some hospitals in the program "do not provide meaningful levels of charity care to low-income and vulnerable patients, ultimately pushing up drug prices for patients with private health insurance."
340B Health and other provider groups strongly reject the suggestion that the 340B program contributes to higher drug prices. As evidence, they cite research showing that in 2015 drug discounts under the program amounted to just $6.1 billion in the $457 billion U.S. market – just 1.3 percent of total U.S. drug sales.
Providers also reject the suggestion that 340B hospitals provide insufficient care for low-income patients. New research commissioned by 340B Health, for example, found that 95 percent of 340B disproportionate share (DSH) hospitals report using their 340B savings to provide uncompensated care and 80 percent report using their savings to offset low Medicaid reimbursement.
Providers note that the administration's $1.6 billion reduction in Medicare Part B drug reimbursement to 340B hospitals this calendar year has taken financial resources away from hospitals that low-income and rural patients depend on and put it back into the pocket of drug manufacturers. Three-quarters (75 percent) of the DSH hospitals that 340B Health surveyed for its new report said they would have to cut back on uncompensated care if 340B savings are reduced.
The administration and others have argued that the $1.6 billion Medicare cut to 340B hospitals will save older Americans millions of dollars in reduced cost-sharing obligations. 340B Health and others counter that the cut helps little in that regard considering that 84 percent of seniors on Medicare have a form of supplemental insurance (Medigap, employer-sponsored, Medicaid) that pays copays and coinsurance.