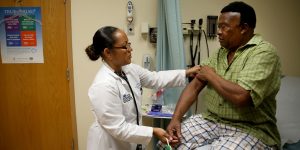 July 19, 2018—A new report  by a key government watchdog confirms the crucial role 340B hospitals play in providing care to low-income patients. In its report to Congress, the Government Accountability Office (GAO) found that disproportionate share hospitals (DSH) participating in the 340B drug pricing program provide more uncompensated and unreimbursed care than acute care hospitals that do not qualify for the program. In fact, the report found 340B DSH hospitals provide 63 percent more charity care than non-340B hospitals.
The GAO also found that 340B DSH hospitals have significantly lower margins than those not in the program, specifically the median 340B DSH hospital had a 31 percent lower margin than non-340B DSH hospitals. The GAO also found that 340B DSH hospitals are much more reliant on Medicaid patients as a share of their total patient revenues as compared with non-340B hospitals. Because Medicaid chronically underpays hospitals for critical services, this finding suggests that 340B hospitals incur greater costs in treating these high numbers of Medicaid patients. Collectively, these findings clearly demonstrate that 340B DSH hospitals provide higher amounts of care to low-income patients, while operating on smaller margins compared to their non-340B counterparts.
The GAO also compared hospitals in states that expanded eligibility for Medicaid to single adults with income below 138 percent of the federal poverty line and found 340B DSH hospitals in expansion states saw their total facility margins decrease between 2012 and 2016 (4.0 to 3.4).
GAO looked at three kinds of hospitals that participate in 340B – DSH, sole community hospitals (SCH), and critical access hospitals (CAH). In 2010, Congress added the latter two categories because they serve rural communities and are often the only provider available to the people who live there. While more than 1,000 rural hospitals now participate in the 340B program and offer critical services to their rural patients, their collective drug purchases account for about 3 percent of total 340B drug sales. In recent years more than 120 rural hospitals have closed and another 700 are considered in danger of closure. And a recent report by 340B Health showed 74 percent of rural hospitals say their 340B savings are the difference between staying in business and closing.
One concern with the GAO report is the fact that it presents findings across all three types of hospitals. But such analyses aren't meaningful because these hospitals are vastly different in size and are required to meet very different thresholds to participate in the program. As the GAO report notes, 340B DSH hospitals have a median of 222 beds compared with 25 for CAHs and 63 for SCHs.
Another difference to keep in mind is that CAHs are not required to treat a given number of low-income patients to qualify for the program. As a result, comparisons of non-340B and 340B CAHs on the basis of their provision of care to low-income patients are misleading since they were not added to the program for that purpose.
The report comes amid intense debate on Capitol Hill about the future of the 340B program. It was issued one week after a hearing before the House Energy & Commerce Health Subcommittee, which examined more than a dozen legislative proposals including several that would curtail the scope of the 340B program. The GAO report was requested by Reps. Michael Burgess (R-Texas) and Greg Walden (R-Ore.), the chairs of the health subcommittee and the full committee, respectively.