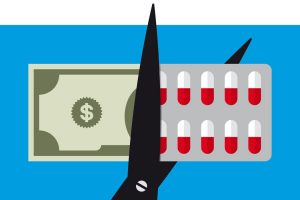 September 27, 2018—Major national hospital associations this week protested the federal government's plan to continue a nearly 30 percent reduction in Medicare drug reimbursement to 340B hospitals in 2019 and extend the payment cuts to certain outpatient departments that are currently exempt.
In separate public comments sent to the Centers for Medicare & Medicaid Services (CMS), the hospital groups offered their perspective on the proposed calendar year 2019 Hospital Outpatient Prospective Payment System (OPPS) rules. 340B Health, the American Hospital Association (AHA), America's Essential Hospitals, and the Association of American Medical Colleges (AAMC) said CMS's 340B hospital payment cuts violate federal law, harm hospitals serving low-income patients, and do not reduce patient costs, Medicare spending, or skyrocketing drug prices. Instead, they added, the payment reductions significantly erode the 340B program's value to hospitals, forcing some to pull back services or even consider leaving 340B.
In 2018, CMS reduced Medicare Part B drug reimbursement for many 340B hospitals by $1.6 billion annually by reducing the payment rates from average sales price (ASP) + 6 percent to ASP – 22.5 percent. CMS has proposed continuing the payment cut next year and expanding it to off-campus hospital outpatient departments that were shielded from the reduction this year. CMS says the reduced reimbursement reflects 340B hospitals' acquisition costs more closely and allows Medicare and its beneficiaries to pay less when hospitals furnish 340B-purchased drugs to those beneficiaries.
The 2018 policy is the subject of a federal lawsuit filed by the AHA, AAMC, and America's Essential Hospitals joined by three health systems in Maine, Michigan, North Carolina. Their original suit was dismissed on procedural grounds, but a new challenge was recently filed. The suit argues that the 2018 OPPS rule's 340B provisions violate the Medicare and 340B statutes and should be set aside.
Hospitals are also fighting on Capitol Hill to get the policy reversed. Bipartisan legislation (H.R. 4392) to nullify the 2018 cuts by Reps. David McKinley (R-W.Va.) and Mike Thompson (D-Calif.) has 200 co-sponsors. Another bill (H.R. 6071) by Rep. Doris Matsui (D-Calif.) would also nullify the cuts and require more transparency from drug manufacturers participating in the 340B program.
Patient Care Affected
In its comments, 340B Health said the cuts have already affected its member hospitals' ability to care for low-income patients. In a recent survey 72 percent of 340B Health member hospitals said they have responded to the cuts by reducing clinical and other patient services and 61 percent said they have reduced staff. Hospitals also reported reducing uncompensated care levels, providing fewer free/discounted drugs for patients, providing fewer discounts on patient copayments, closing one or more clinics, or closing one or more outpatient pharmacies.
All of the 340B Health member hospitals surveyed said they were concerned about the proposal to continue the 2018 payment reduction in 2019, and 94 percent said they were concerned about the proposal to extend the reductions to more outpatient departments. For St. Mary-Corwin Hospital in Pueblo, Colo., the payment reduction "has resulted in a nearly $1,000,000 loss and contributed to the hospital having to drastically reduce patient care services, including closing its surgical unit and reducing its intensive care unit," 340B Health wrote. "The hospital, which was operating on already narrow financial margins prior to the 340B payment reduction, has also had to significantly reduce staff, eliminating 300 jobs to remain financially viable after the payment cuts."
In the Adirondack Mountains in New York state, "reduced reimbursement, coupled with increasing costs for Part B drugs, have prevented Clifton Springs Hospital in Clifton, New York, from filling pharmacy staff positions that would assist patients with medication reconciliation," 340B Health added.
CMS's 340B payment policy "only makes it more difficult for safety net providers to treat low-income patients, which could make it more difficult for patients to access needed services at 340B hospitals," 340B Health said. "We encourage CMS to withdraw the proposals to continue and extend the payment reduction and restore Part B payment levels to the pre-2018 levels mandated by law."
No Effect on Rising Drug Prices
In its comments, the AHA said CMS was continuing "its relentless attack on the 340B program" in the 2019 OPPS proposed rule. "Its drastic reductions in the payment rate for 340B drugs [are] effectively eviscerating the benefits of the program."
"Punitively targeting 340B hospitals serving vulnerable communities does not address the basic driver increasing spending on drugs – the skyrocketing cost of pharmaceuticals," the AHA said. CMS lacks legal authority for the original 2018 payment reduction and its proposed continuation next year, the AHA said, and lacks legal authority to expand the cuts to previously exempt off-campus outpatient departments.
America's Essential Hospitals told CMS in its comments that, in the year since CMS first proposed its payment reduction for 340B hospitals, "the agency has yet to demonstrate that the policy lowers drug prices, financially helps beneficiaries, or improves access to or quality of care provided to Medicare beneficiaries. On the contrary…CMS' drug reimbursement policy already has begun to undermine a key policy lever that has proved effective in combating high drug prices."
"The 340B program actually saves money for providers, patients, and the federal government," America's Essential Hospitals continued. "It is a critical tool that insulates patients from rising drug prices and ensures their continued access to needed therapeutics. The 340B program has enabled essential hospitals to reduce ED usage, increase access to coordinated care, reduce readmissions, and increase availability of lifesaving prescription drugs to low-income patients. By preserving the 340B program, CMS will ensure that hospitals can continue to use their limited resources to develop programs to achieve these shared goals."
The AAMC also emphasized the 340B program's role in reducing drug prices in its comments to CMS. "The 340B Program does not drive high drug prices, but rather, provides vital support and access to vulnerable patients and communities," it wrote. "Consistent with the intent of the program – to help stretch scarce resources as far as possible, reach more eligible patients, and provide more comprehensive services – safety-net hospitals invest their 340B savings in a wide variety of programs to meet the needs of their local communities and help vulnerable patients. Since the savings come from drug manufacturer discounts, these services are provided at no cost to taxpayers."
The 340B program "has been unfairly targeted as a driver of high drugs prices, and proposals to undermine this important program are counterproductive in addressing access to affordable medication," the group said. "The responsibility for high drug costs rests with the high prices set by the manufacturers. CMS should focus on the unsustainable prices of new therapies and identify ways to decrease skyrocketing costs. Shrinking the 340B Program will only harm patients who rely on the services provided by covered entities – it will not affect drug prices."