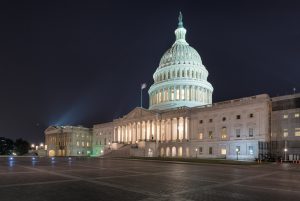 As 2018 comes to a close, we can look back on 12 months of notable focus on the 340B drug pricing program. With four congressional hearings and more than a dozen pieces of legislation on Capitol Hill, and several regulatory efforts by the Trump administration, 340B was under a magnifying glass.
Not all of this activity was constructive. Some efforts would have done significant damage to the program by reducing its scope in ways that would exclude many low-income and rural Americans from its help. Yet, as the year ends and the 115th Congress prepares to adjourn, there has been no action on 340B legislation.
On the regulatory front, there was a mixed bag of results. The administration persisted in its efforts to dramatically reduce Medicare Part B payments to 340B hospitals by nearly 30 percent. The cut, which originally went into effect on Jan. 1, 2018, will continue into 2019 and be broadened to affect some sites that had previously been exempted. Challenges to the cuts continue both in the courts and in Congress. In fact, legislation to reverse the cuts – introduced by Reps. David McKinley (R-W.V.) and Mike Thompson (D-Calif.) – garnered 200 cosponsors, including Democrats and Republicans. Expect to see those efforts continue in 2019.
Using Our Voices
The year started with a January critical report by the House Committee on Energy & Commerce that "identified several weaknesses in program administration and oversight." The report also recognized the importance of the program and noted that it enjoyed "strong bipartisan support" in Congress. The Committee said it was "unclear" whether Congress intended the program to directly benefit patients or their safety-net providers. It also raised questions about the government's authority to oversee 340B.
Two bills were introduced that aimed at freezing 340B provider enrollment, adding significant reporting requirements, and making other changes. Notably, however, neither bill attracted much support in the form of cosponsors, and neither advanced in the legislative process.
On the Senate side of Capitol Hill, a series of three hearings were held by the Health, Education, Labor & Pensions (HELP) Committee. The panel, chaired by Sen. Lamar Alexander (R-Tenn.) alongside ranking Democrat, Sen. Patty Murray (D-Wash.), hadn't held 340B hearings before, so it was the first opportunity senators had to explore the program. The hearings also gave representatives of 340B providers the chance to discuss how the discounts required under the law allow their members to create and support services for their low-income patients. Committee members from both sides of the aisle also talked about the positive impact 340B was having on their states.
The summer months saw introduction of legislation aimed at increasing accountability and transparency for drug manufacturers participating in 340B. The SERV Communities Act, introduced by Rep. Doris Matsui (D-Calif.), would also have codified a number of key definitions in 340B. The legislation drew strong support from organizations and providers from across the spectrum, including 340B Health.
In July, the House Committee on Energy & Commerce scheduled a "legislative hearing" for members to discuss a variety of proposals. While this included the McKinley-Thompson and Matsui bills, it also included proposals to expand reporting by hospitals and to strengthen the government's authority to oversee 340B. One noteworthy proposal, by Rep. Joe Barton (R-Texas), would have changed eligibility for hospitals in 340B in such a way as to knock half of the participating hospitals out of the program. A 340B Health analysis of the Barton plan showed 573 hospitals, or 51 percent of all participating DSH hospitals, would have lost eligibility if it were passed. Five states would have lost all of their DSH hospital participants. The proposal did not advance.
Enhancing Transparency
In addition to the Matsui bill, 340B hospitals continued to pressure the administration to move forward with enforcement of regulations establishing civil monetary penalties (CMPs) for drug manufacturers that "knowingly and intentionally" overcharged 340B providers. Congress called for such penalties in 2010 legislation following a series of reports by the HHS Office of Inspector General documenting overcharges. The legislation also called on the Health Resources & Services Administration (HRSA) to develop a secure website to list all of the ceiling prices for 340B covered drugs so that providers could be sure they weren't being overcharged.

However, implementation of the penalties and website were delayed five separate times, with the last such delay pushing it out to July 1, 2019. 340B Health and three other national hospital associations took HHS to court demanding an end to the delays.
As the court case proceeded, HHS announced it would move up enforcement by six months, to Jan. 1, 2019. HRSA subsequently promised to have the ceiling price website up and running on Apr. 1, 2019. The Matsui legislation also included provisions aimed at protecting providers from discriminatory actions by payers against 340B covered entities.
Looking Ahead
With 2019 just around the corner, it's useful to look ahead to how the debate over 340B may play out in the coming year. There have been some significant changes in Washington with Democrats taking control of the House of Representatives and the key committees overseeing 340B and other health programs. There also will be 100 newly elected members of Congress in D.C., bringing new viewpoints and experiences to the table.

While it's a fool's errand to predict how the year might play out, it is a safe assumption that we have not seen the end of the 340B debate.
Happy Holidays!