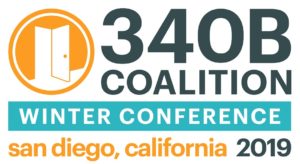 February 5, 2019— Hundreds of pharmacists, 340B program directors, and other patient advocates convened in San Diego last week for the 15th Annual 340B Coalition Winter Conference, the largest such gathering to date. The event gave safety-net hospitals, community health centers, Ryan White clinics, and other safety-net providers a chance to discuss the latest developments in drug pricing, learn more about best practices in their fields, and network with others dedicated to improving the health of low-income and rural patients.
The event came at a time of continued debate in Washington over the future of the 340B program and intensifying national scrutiny of rising prescription drug prices. Over the course of three days, the nearly 1,800 conference attendees heard from more than 100 speakers during several plenary sessions and more than 20 breakout sessions.
Among the highlights:
340B Health President and CEO Maureen Testoni reviewed how much 340B – and the world – has changed since it was enacted in 1992 by President George H.W. Bush. "After 26 years, 340B is still helping safety-net providers stretch resources, reaching more patients and providing more services," she said. Testoni reviewed the numerous successes that advocates of 340B achieved in 2018 on Capitol Hill, with the administration, and in the courts. She cautioned, however, that supporters of the program need to remain vigilant against challenges that could roll back or weaken the crucial health assistance that 340B provides for patients throughout the U.S.
Keynote speakers Michael McCaughan, founding member of Prevision Policy LLC, and Rodney Whitlock, vice president of health policy at ML Strategies, discussed the shifting Washington policy arena in 2019. The Democratic takeover of the U.S. House is one of the largest factors driving expectations of legislative action for the year, but both speakers noted that possible administrative actions in the drug pricing area remain a major wild card.
Experts from safety-net hospitals shared several of the innovative, customized, and successful ways that they have used 340B savings to help combat the opioid epidemic in their communities. Their strategies include working with law enforcement and other first responders to prevent overdose deaths, changing opioid prescribing practices to lessen the potential for use disorders, and creating naloxone distribution programs to put more lifesaving medication in the hands of individuals who are in the best positions to administer them. Three of the panelists – from MetroHealth Medical Center in Ohio, Wake Forest Baptist Health in North Carolina, and Boston Medical Center in Massachusetts – are featured in 340B Health's recent report showing how 340B hospitals are on the front lines of fighting the opioid epidemic.
Speakers in a conference panel on health care equity discussed how 340B can be used to empower health care providers to better serve the patients and communities that are all too often underserved. Social determinants such as neighborhoods, socioeconomic status, and environment continue to be linked to disparities in health access and outcomes, particularly for communities of color and other traditionally underserved populations. Panelists shared their stories about how 340B savings can be used to help address these disparities, whether through pediatric asthma programs on Chicago's South Side, tele-pharmacy and mail order pharmacy initiatives in rural Mississippi, or community-based health access points in downtown San Diego.
Breakout sessions gave attendees from community health centers, STD clinics, hemophilia treatment centers, HIV/AIDS clinics, and other 340B stakeholders the opportunity to meet with their peers on the latest developments affecting their facilities and industries. The 340B Coalition that sponsored the conference consists of more than a dozen associations – including 340B Health – representing a wide range of safety-net providers and patient advocates.