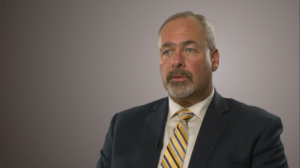 April 12, 2019— Few places demonstrate the importance of the 340B drug pricing program more clearly than a safety-net hospital whose 340B savings are greater than their operational bottom line.
This is the case at Southern Ohio Medical Center, a sole community hospital serving Portsmouth, Ohio. Without the savings that they derive from 340B, they would not be able to afford to offer the breadth of care that they do in a community where they often are the only provider of certain services.
Rory Phillips, the director of pharmacy and respiratory care at the center, is the newest profile in our Faces of 340B video series. He notes that SOMC uses its 340B savings to fund such services as free medications for low-income patients, rural health clinics, and a psychiatric care program. Without 340B, some of those services no longer would be sustainable for the hospital, Phillips explains.
In 2017, SOMC was able to give $470,000 in free prescription drugs to patients who couldn't afford them, helping to improve health outcomes through increased medication compliance.
"We know that 40 percent of patients that go to medical office visits and have prescriptions don't ever get them filled," Phillips says. "I can't go in their home and give them a glass of water every morning, but we can at least get the drug for them."
The rural health clinics are key providers of care for patients who live with low incomes and cannot afford to travel to the main hospital, Phillips says. The psychiatric care enabled by 340B is essential in an area with only one psychiatrist and a few psychiatric nurse practitioners.
Without 340B savings, the hospital would have no other choice but to determine which of these services they would need to scale back or eliminate to stay operational.
Check out Rory's video profile at our Faces of 340B website.