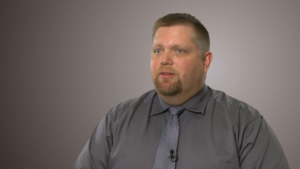 June 4, 2019— The connection between the 340B drug pricing program and scorpions might not be a natural one for an outsider to make. But the health professionals at Arizona-based Banner Health know how important the former can be for someone who has an unfortunate run-in with the latter.
In the southwest U.S., patients experiencing stings from poisonous bark scorpions can be a common occurrence, explains Page Smith, the 340B program director for Banner Health. For young children, elderly individuals, and other potentially compromised patients coming to the emergency department after such stings, the antivenom medication Anascorp can significantly reduce potentially serious complications. The medication is very expensive, but 340B allows Banner facilities to offset the cost of providing it to uninsured and underinsured patients who otherwise cannot afford it.
Smith is the newest profile in our Faces of 340B video series. He notes that subsidizing the cost of this highly specialized treatment for scorpion stings is just one of the many ways in which Banner relies on its 340B savings to provide the care the people in its communities need. The system is spread across six states and 26 facilities, with 22 of the locations participating in the 340B program.
Another good example of how Banner uses 340B to meet community needs is through medication takeback programs that reduce the potential for diversion or other misuse of opioids and other controlled substances. Banner retail pharmacies sponsor those programs using 340B savings.
"If 340B were scaled back or stopped, Banner Health would be impacted severely," Smith says. Program savings allow the larger Banner facilities to offer a wide range of needed services, and they help some of the critical access facilities in more rural areas stay open and operating.
Check out Page's video profile at our Faces of 340B website.