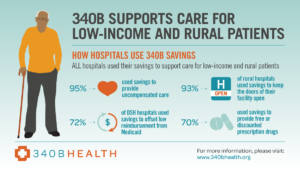 June 12, 2019— As policymakers debate the future of the 340B drug pricing program, a new report by 340B Health finds that hospitals are using the savings from outpatient prescription drug discounts to care for patients with low incomes and those living in underserved rural communities. The report is based on a survey of more than 1,300 hospitals participating in 340B.
The 340B drug pricing program requires pharmaceutical companies to sell covered outpatient drugs at a discount to safety-net hospitals, health centers, and clinics serving low-income or rural populations. These providers use those savings to stretch their scarce resources to care for more patients and offer more comprehensive services to their communities without relying on taxpayer dollars.
Here are five key takeaways from the report:
All hospitals are using their 340B savings to support critical services and access to care for their patients, with 95 percent of hospitals supporting the provision of uncompensated and unreimbursed care and 90 percent supporting patient care services.
72 percent of "disproportionate share" or DSH hospitals use 340B savings to offset losses from low Medicaid reimbursements.
93 percent of rural hospitals report relying on 340B to help stay open at a time when more than 100 rural facilities have closed, and more than half of rural hospitals report a cut in 340B savings likely would trigger a closure.
340B hospitals reported their 340B savings have helped improve patient outcomes, including medication adherence (81%), reducing preventable readmissions (78%), and improving clinical outcomes (60%) for patients living with HIV, hepatitis, and other chronic conditions.
340B hospitals save an average of $11.8 million per hospital through the program and spend between $100,000 and $200,000 annually to ensure compliance with 340B program rules and requirements.
Read the report and an infographic highlighting its major findings.