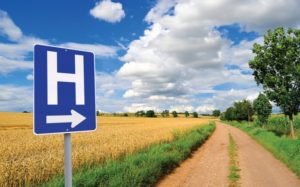 June 28, 2019– A pair of new reports demonstrate the precarious position of the nation's rural health care system and underscore the need for the 340B drug pricing program to continue bolstering struggling safety-net hospitals caring for underserved rural communities.
With more than 100 rural hospitals closing in the past decade, policymakers from across the political spectrum are searching for solutions. A new national survey conducted by the Bipartisan Policy Center (BPC) and the American Heart Association found half of rural voters said the long distances they have to travel to get care are a barrier to protecting their health. In the same survey, 70 percent of rural voters said the high cost of prescription drugs is also a barrier to accessing needed treatment. In response to these findings, the BPC has launched a new rural health task force.
The 340B drug pricing program is designed to address these access issues. Safety-net hospitals participating in 340B use their savings to offer free or discounted medications and health services to patients who otherwise can't afford them. 340B hospitals in more remote areas often are the only hospitals available to the community for many miles around. A closure of one of these hospitals would force members of the community to travel farther – in some cases by a matter of several hours – to receive such critical services as trauma care, substance-use-disorder treatment, and oncology care.
340B Health recently released our 2018 Annual Survey of hospitals. It found that 93 percent of rural hospitals report they rely on 340B savings to help stay open, and more than half of rural hospitals report that a cut in their 340B savings likely would cause them to shut down. Many hospitals are using their 340B savings to provide free or discounted prescription drugs to patients living with lower incomes.
An excellent example of how 340B makes a difference for rural health is Dickinson County Hospital in Iron Mountain, Mich. The hospital reports that 340B savings enable them to provide diabetes treatments, wound care, and oncology services on site to their community of more than 7,000 residents. Without the 340B program, the hospital would be unable to offer those services and patients would have to travel up to 85 miles to receive needed treatment.
Johnson County Hospital, an 18-bed critical access hospital in southeastern Nebraska, uses its 340B savings to provide vital services that nobody else in the area can offer, including oncology care. Without those services, cancer patients would have to drive 45 to 100 miles away. That has a real impact on their recovery and their quality of life, says Olivia Little, the hospital's 340B coordinator. "It's a burden on the family and the patient having to drive a long distance to receive chemotherapy – you know, they're not feeling very good – and then coming back," Little said.
The bipartisan attention to rural health access is a welcome development. In an era when the two political parties rarely agree on health care policy, this new initiative has the promise of action to shore up a faltering system and provide care to millions of Americans who struggle to access affordable care. 340B hospitals are proud to be part of the solution.