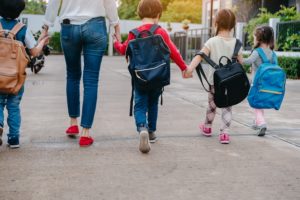 August 23, 2019— When one considers the types of patients who benefit the most from the 340B drug pricing program, one might think first of adults with chronic illnesses who have low incomes or who live in rural areas. But many individuals who also rely on 340B as part of the health care safety net are some of the youngest patients among us.
Part of the great power of 340B is that it can be customized to meet the patient health needs of individual communities. In many of these areas, 340B hospitals have determined that enhancing childhood health care is a very effective use of some of their 340B savings. After all, healthy children who develop healthy habits early in life are more likely to grow into healthy adults.
And what better place for these programs to reach kids than in school, where they spend most of their time during the week? Consider just a few examples of how 340B hospitals around the country are using their program savings to help children where they learn:
JPS Health Network in Fort Worth, Texas, uses 340B to fund school-based clinics on the campuses of local elementary and junior high schools, where they provide primary and acute care to tens of thousands of students and siblings
Northern Light Health's Blue Hill Hospital in Blue Hill, Maine, uses 340B to provide on-site counseling in its service area's largest high school to reach more children who might need additional behavioral health services through the system
Ascension's St. Vincent's Blount in Oneonta, Ala., uses 340B to pay the salary of a full-time nurse at the local middle school and to encourage healthy behaviors by providing sports equipment for several schools in the county
Hospitals and health systems throughout the country have similar school-based applications of their 340B drug pricing program savings. A recent 340B Health analysis found that 340B hospitals are more than twice as likely as non-340B hospitals to offer children's wellness programs and psychiatric services for children and adolescents.
As we send our kids back to school this year, we celebrate the fact that many dedicated safety-net providers are heading back to school with them.