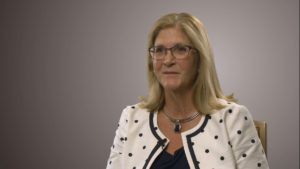 August 16, 2019— As a critical access hospital, RiverView Health in northwest Minnesota is a vital source of care for the largely rural communities it serves. That necessitates hiring physicians and other health professionals who can provide high-quality services to their patients, says Betty Arvidson, the hospital's chief financial officer.
"We have a mission to provide care to our patients that exceeds expectations by hiring exceptional people who provide exceptional care, and we have exceptional outcomes," she said.
Arvidson is the newest profile in our Faces of 340B video series. In part using 340B program savings, RiverView Health has brought on the staff it needed to establish and maintain an orthopedic surgery center, 24-hour lab and imaging services, an emergency department staffed with physicians employed by the hospital, and more.
The savings also enabled the hospital to expand its rural clinic hours to include evenings and weekends. That is immensely helpful to patients who need care but are not able to visit the clinic between the more traditional hours of 8:00 to 4:30.
Arvidson says some of the most gratifying moments at RiverView involve patients who cannot afford their care being able to access it because of 340B savings.
"The ones that really hit my heart are the ones who have been employed, recently lost their jobs, had an unfortunate medical situation, and were faced with some very tremendous bills," she said. "It is very rewarding for our staff to be able to make those phone calls to those patients and let them know that they did qualify for charity care."
Any cuts to the 340B program would threaten the great progress that the hospital has made in expanding charity care and service lines since joining the 340B program. At particular risk would be three services that cost more to provide than they bring the hospital in revenue, Arvidson said. These are home health/adult day services, a 24-bed memory care facility, and outpatient chemical dependency services in four communities.
Check out Arvidson's video profile at our Faces of 340B website.