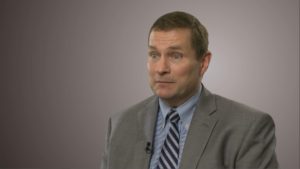 August 29, 2019— Dartmouth-Hitchcock Health is a small but vital health system serving some very rural areas of northern New Hampshire and Vermont. Despite its relatively remote region, the system is home to a renowned academic medical center, a cancer institute, and the only level 1 trauma center in New Hampshire.
Through participation in the 340B drug discount program by Mary Hitchcock Memorial Hospital, the system's covered entity, Dartmouth-Hitchcock can offer a wide range of services and support that its communities need, says Michael Lessard. He's the system director for pharmacy contracting and supply chain and is the newest profile in our Faces of 340B video series.
Some of the ways in which the system uses its 340B savings include a retail pharmacy offering discounted medications to people without prescription drug coverage, Lessard says. Program savings also go toward embedding substance use disorder counselors in the emergency department – a potential lifesaver in an area of the country hit particularly hard by the opioid crisis. Dartmouth-Hitchcock even provided a grant to a neighboring community to support its substance use disorder program.
Margins in health care remain "razor-thin," and Dartmouth-Hitchcock is not immune to the financial pressures in the health system, Lessard says. Cutbacks in 340B savings would force program changes at the system, which in the recent past has seen a year with a negative operating margin.
Dartmouth-Hitchcock has grown its 340B program to achieve savings of about $45 million a year, but that is against a total of about $130 million a year in care the system provides through charity programs, indigent care, and uncompensated Medicaid care. "So it certainly helps us to make a dent in the amount of care that we provide for free to our patients," Lessard says.
Dartmouth-Hitchcock can provide a level of free care and enhanced services that is dependent in part on 340B savings. "At the end of the day, we have to pay our physicians, we have to pay our nurses, we have to pay our health care programs, and if we can't do that, we have to scale back the programs that we provide," Lessard says. Check out Lessard's video profile at our Faces of 340B website.