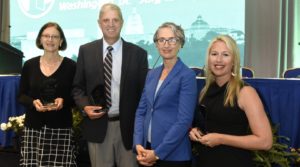 Sept. 26, 2019— When one discusses the 340B drug pricing program, the talk often turns to complex compliance and implementation issues such as actual acquisition prices, split billing software, and penny pricing. But it's important to remember that there also are dedicated people working with all this complexity to make the program a success in helping patients.
We recently had the chance to celebrate several of the many dedicated health professionals who have become 340B experts and strong advocates for the program. The 340B Health Champions program recognizes members who have become especially accomplished in furthering their proficiency in their field and telling their stories to policymakers and the public about why the program should be protected.
The 340B Health Champions for 2018 come from three very different parts of the country and work for three very different health systems. But they all have the same goal of maximizing the value of the 340B program for their patients in need. This is a goal that is shared by hundreds of their colleagues throughout the nation.
Olivia Little, Johnson County Hospital, Nebraska
Olivia is the 340B program director at a critical access hospital that provides a local oncology program and a wealth of community health benefits that are not available anywhere else in the area. If the hospital didn't offer those services, some patients might need to travel more than 100 miles away to find another provider who did.
Olivia is one of the most passionate advocates for 340B because she knows well how much rural hospitals like hers rely on program savings to offer the level of care that they do to patients. She is a frequent attendee at 340B-related advocacy and education events in Washington and in her home district, where she speaks passionately and in personal terms about the need to protect 340B.
Kevin Jones, Intermountain Healthcare, Utah
Kevin is the 340B program director for a system that has a dozen 340B covered entities. He is particularly focused on using 340B to provide medication assistance to patients with chronic illnesses who cannot afford the treatments they need to stay healthy.
Kevin has become such a vocal proponent of 340B because his experience exposed him to patients living with low incomes for whom medication costs are the single largest barrier to care. He knows that 340B is a very significant resource for ensuring that those patients get what they need.
Cindy Williams, Riverside Health System, Virginia
Cindy is the 340B program director for a system that has two 340B covered entities, one serving a patient population in an urban area and another in a rural area. In the rural setting, the program enables the system to provide free or discounted medications to patients in need as well as health clinics and other community benefits. In the urban setting, 340B also enables the provision of enhanced, specialized care services to everyone in the community.
Cindy has seen first-hand how advocating effectively for the protection of 340B has resulted in broad bipartisan support for the program. She has become an inspiration for other health experts whose success stories help educate policymakers on the need to protect 340B.
Hear Them Tell Their Stories
Want to know more about these 340B Health Champions and the work they do for their patients? Check out video profiles from Olivia, Kevin, and Cindy in our Faces of 340B series. The project features nearly 50 stories and counting from patients and health providers who rely on 340B.