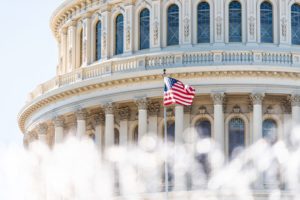 September 9, 2019– Congress is back in town this week after the end of its August recess, and lawmakers are gearing up for a busy fall with a major focus on how to slow down ever-increasing drug prices.
The cost of prescription drugs is on the minds of members from both parties in Congress as well as members of the Trump administration. Before they left town, two Senate committees voted to approve bipartisan bills to rein in drug costs:
The Senate Health, Education, Labor, and Pensions (HELP) Committee on June 26 approved the "Lower Health Care Costs Act," which contains provisions to encourage access to lower-price generic drugs and biologics
The Senate Finance Committee on July 25 approved the "Prescription Drug Pricing Reduction Act (PDPRA) of 2019," which aims to reduce drug prices across several federal health care programs, including Medicare.
The HELP Committee bill also attempts to address so-called "surprise billing" of patients for out-of-network services. The Finance Committee measure would impose Medicare penalties on drug makers that raise their prices faster than inflation, similar to provisions in the 340B drug pricing program and Medicaid. Both proposed policy changes are highly controversial. The Finance Committee bill would exclude 340B drugs from the new rebates so manufacturers would not pay both a 340B discount and a rebate on the same drug.
House Speaker Nancy Pelosi (D-Calif.) is working on her own drug pricing plan, which is likely to include some authority for Medicare to negotiate prices directly with manufacturers. It may be unveiled as early as this week.
Whether Congress can come to an agreement on drug pricing legislation this fall is an open question, but the debate is likely to be intense.
So far, neither Senate bill touches on the 340B program directly, but efforts were made to add 340B provisions to both measures while in committee. There is a chance those proposals – or something like them – could pop up again when the bills move to the Senate floor.
Government Funding Bills
Congress has fewer than 30 days to agree on how to fund the federal government for fiscal year 2020, which starts Oct. 1.
Congress agreed to an overall budget deal in July that establishes general spending amounts for defense and domestic programs. But the House and Senate still must pass the appropriations bills that provide the specific funding for agencies and programs.
Finally, Congress must act on legislation to provide funding for community health centers and to prevent or modify a scheduled cut in Medicaid disproportionate share hospital (DSH) payments. While there is bipartisan support for approving both, working out the details may prove difficult in a relatively short timeframe. In that case, short-term funding extensions are possible for both areas.