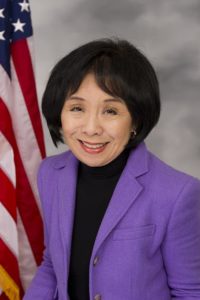 October 18, 2019– Rep. Doris Matsui (D-Calif.), a longtime champion of the 340B drug pricing program, defended the program during a key congressional hearing to consider drug pricing legislation.
Yesterday's House Energy & Commerce Committee meeting to mark up the Lower Drug Costs Now Act of 2019 (H.R. 3) featured the introduction of an amendment that would have limited the scope of the 340B program. Rep. Matsui passionately spoke against the proposed change, and the committee voted to reject the amendment. Her remarks were so eloquent that we are sharing a full transcript:
The purpose of the 340B program was clear from the start, from the very first House report filed with it. It stated the 340B program was created to help covered entities, including rural hospitals, children's hospitals, community health centers, and others to stretch already scarce federal resources as far as possible in order to reach more eligible patients and provide more comprehensive services. 340B is critically important. It covers entities that use the program savings to provide uncompensated and undercompensated care, free or discounted prescription drugs, and comprehensive wraparound se4rvices such as ambulatory care and medication management. This program is vital in keeping these institutions' doors open.
The amendment before us now would fundamentally change the purpose and limit the scope of the program, leaving so many patients across the country behind. This would severely restrict the number of patients who could be served by this program by limiting the scope of who this program could serve and limiting it from a program that provides complete wraparound services to patients to one that only provides low-cost drugs.
"A bill I introduced last year, the SERV Communities Act, would write into law the ability for 340B covered entities to fully serve their communities. It made clear that while the 340B program enables covered entities to provide comprehensive services to the communities they serve, which may include providing free or discounted drugs to vulnerable populations, providing free or discounted drugs to patients is not the sole purpose of the program. The 340B program is designed to help covered entities promote health for underserved communities and patients, regardless of a particular patient's insurance status or inability to pay. Savings from the 340B program are used by covered entities to reach more patients and provide more comprehensive services."
This amendment would limit their ability to serve patients who need rides to the doctor. This would limit their ability to provide medication management services to help keep their patients healthy. This would limit their ability to coordinate care among care providers. This amendment would take us backward and lead to worse health care for patients. I cannot support it.
We should all support measures that would strengthen program integrity. This was the focus of the SERV Act. And I'm happy to work with my colleagues across the aisle to improve the 340B program. But I believe this amendment takes us in the wrong direction. It limits the scope of the program while leaving patients behind."
The 340B program has been vital for access to health care for millions of patients. We should not be using this bill as an opportunity to cut services or reduce care. I urge my colleagues to oppose this amendment."
On behalf of the more than 1,400 safety-net hospitals we represent, 340B Health thanks the congresswoman for her remarkable leadership on behalf of the patients they serve.