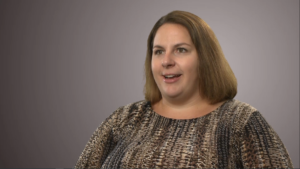 October 24, 2019— The 340B drug pricing program helps Northern Light Health (formerly Eastern Maine Healthcare Systems) serve many patients in a region that takes up two-thirds of the entire state of Maine. But for Jennifer Rossi, who directs the system's 340B program, there's just one patient care success story that will stay with her forever.
Jennifer is the newest profile in our Faces of 340B video series. She knows very well how 340B savings enable her system to offer specialty services locally, such as oncology, cardiology, and pediatric care, that patients otherwise might need to travel to another state to access. But she didn't fully grasp just how important that is to area residents until her daughter was admitted to the hospital at 20 months old. Having crucial pediatric specialty care so close to home was a major help to the entire family during a very stressful time.
Having a local source of treatment for her daughter was so important because it meant "being able to only drive 40 minutes to the hospital, to be able to stay with her and have family members close by, her sisters to be able to stop in and see her," Jennifer said. Families who must travel long distances for specialty care, sometimes even to another state, must cope with the added family disruption and expense that goes along with that.
Her daughter is healthy now, and Jennifer continues to be grateful that the care she received was accessible when she needed it. And it drives home just how significant a resource 340B is for Northern Light Health and other safety-net hospitals that serve largely rural areas of the country.
The prospect of a system such as Northern Light Health being forced to curtail such services because of a reduction in 340B savings is something that Jennifer says "really scares me," especially after the experience with her young daughter.
"Our community in Maine, they really count on us, they count on us being there, they count on us having these specialties," she says. "Without the care from the 340B program, I really don't know what some of the members in our community would do, what our patients would do, and how they would receive the health care that they need."
Check out Jennifer's video profile at our Faces of 340B website.