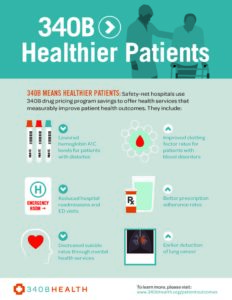 December 5, 2019– When policymakers assess whether programs they created are having positive impacts on people and communities, they ask for evidence that things are better than they were before the program took effect. When it comes to the 340B drug pricing program, that proof is in the improved health of patients. A new report by 340B Health has important information about how the program is improving health outcomes.
We know from previous research that 340B hospitals are using the savings they derive from the 340B program to stretch their limited resources to serve more patients, including the uninsured and underinsured. And we know they are offering more comprehensive services, including care that is often drastically underreimbursed by third-party payers such as Medicaid. The new report goes deeper to see how those patients are faring under that expanded care.
Case studies of nine 340B hospitals located across the U.S. – both large and small as well as urban and rural –demonstrate exactly how these providers are investing directly in the health of their patients.
Case Studies from the Field
Take the University of Illinois Hospital & Health Sciences System, based in Chicago. In part using 340B savings, UI Health established a medication therapy management clinic to help people with multiple chronic conditions. A recent evaluation of the programs found that after six months, patients served  had significantly lower blood pressures and hemoglobin A1C levels than patients who were not enrolled. Those figures translate into much better health for patients living with heart conditions and diabetes.
Or look at how Southern Ohio Medical Center, a sole community hospital in Portsmouth, Ohio, worked to provide better care to a community living with low incomes and high smoking rates. With the help of 340B savings, SOMC launched a patient navigator program designed for people diagnosed with or at high risk for lung cancer. Early detection efforts uncovered lung cancers at significantly higher rates than the national average. That meant patients with cancer had their conditions diagnosed at earlier stages, received better prognoses, and started clinical interventions earlier.
At Avista Adventist Hospital in Louisville, Colo., 340B savings helped staff a medication reconciliation program that focuses, in part, on selecting appropriate antibiotics for patients preparing for surgery. The result of establishing this protocol was a decrease in the use of antibiotics associated with the development of resistance in patients and higher rates of antibiotic use linked to reductions in surgical site infections.
These are just a few of the many ways in which 340B hospitals are not only investing in the improved health of their patients, but also measuring the "return" on that investment. To learn more, Take a look at the report or at an infographic that highlights key findings.