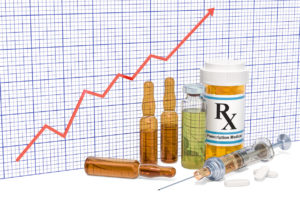 January 8, 2020- There are few certainties in life, and the oft-quoted duo is death and taxes. But we can consider adding at least a third item to this list. In January, the prices of many already expensive prescription drugs will rise. The only question is: By how much?
This week we began to learn about the pricing intentions of some of the major drug manufacturers in the U.S. In the first few days of the new year, drug companies announced price hikes on 445 products. Wall Street analysts report that the average increase was 5.8 percent. That's lower than in some recent years but about the same as it was in January 2019. Moreover, this figure is higher than the average rate of increase in health care costs as a whole. It's also important to remember that drug makers typically raise their prices twice annually – once at the beginning of the calendar year and again at mid-year – so there likely is more to come.
These announcements come during an ongoing national debate over drug prices. President Trump and leaders of both parties in Congress are calling to restrain the rate of price growth and offering a plethora of legislative and regulatory proposals to accomplish this.
These increases are a reminder of the vital importance of 340B. For patients with low incomes and high deductibles, these increases push some products further and further from their financial reach. Fortunately, the 340B program's discounts will soften the blow of these price increases for safety-net providers and the patients they treat.
2020 Price Increases – So Far
It's instructive to look at some of the new prices of products that are the biggest sellers. For example, AbbVie increased the price of the immunosuppressive Humira, the world's top-selling drug, by 7.4 percent. Similarly, Bristol-Myers-Squibb raised the price on the blood thinning drug Eliquis by 6 percent, and Celgene (which recently became part of BMS) increased the price on the cancer medication Revlimid by 6 percent. All these products already carry hefty price tags, so increases that exceed general inflation rates compound the burden on both uninsured and insured patients.
Significant attention has been paid to the pricing actions of two drug manufacturers that have been under a national microscope. Purdue Pharma, which is the subject of numerous lawsuits related to its marketing of opioids, raised the price on Oxycontin by 5 percent. Gilead, which has been criticized for the high amounts it charges for HIV/AIDS drugs, raised prices on Truvada, Descovy, and Biktarvy by 4.8 percent.
A 2019 report by the independent Institute for Clinical and Economic Review (ICER) looked at the price increases on seven prominent prescription drugs and found they were not justified by clinical evidence. Among those drugs were several medications whose prices are going up again this year, including Humira, Truvada, and Revlimid.
There's not much we can do about death and taxes. Let's hope the same does not hold true for the disheartening pattern of biannual, large increases in prescription drug costs. Policymakers certainly are scrutinizing these manufacturer decisions closely as they continue to debate the cost of health care. Meanwhile, the need for 340B grows more important by the day.