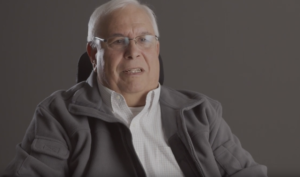 February 6, 2020— Herb Werner vividly remembers the day he suffered the injury that would leave him paralyzed for life. He had just finished unclogging a downspout on his garage roof on a nice summer day when his ladder kicked out from under him and he fell. He was transported to MetroHealth in Cleveland, the nearest hospital designed to treat spinal cord trauma. That's where he started his rehabilitation, a process that would bring him into contact with the 340B drug pricing program.
Herb is the newest patient profile in our Faces of 340B video series. As he adjusted to life after the accident, he found that there are complications from such an injury that go beyond needing a wheelchair. These can affect such parts of the body as the bowel, bladder, and skin, they can involve psychological issues, and they can be compounded by the aging process. Part of his complications involved urological problems, but the good news was that his doctor knew of a prescription medication that would alleviate them.
However, Herb was concerned about the financial burden of the monthly co-pay, especially when he considered the potential of needing more medications as he ages with his injury. He spoke with his doctor about his concern.
"He proceeded to suggest that I check with MetroHealth under the 340B program to determine if that was eligible under the program and if I could in fact get some financial relief," he said.
When Herb checked with MetroHealth's pharmacy, he was provided the medication he needed through the 340B program for just $12 per month, a savings of nearly 75 percent. This lifted a financial burden that he had been concerned was going to affect more than just his pocketbook.
"Without the discount program, there's tremendous financial uncertainty," Herb said. "Financial uncertainty, frankly, translates into psychological concern, and it just changes your quality of life."
Herb now is focused on living his best possible life and doing it with a smile. He volunteers twice a week in the MetroHealth therapy gym where he rehabbed – and where he now speaks with fellow spinal cord injury patients about how they too can live their best lives with their injuries. He also serves as a patient and family advisor at MetroHealth and is leading an effort to construct a therapy garden at the hospital.
Check out Herb's video profile on our Faces of 340B page.