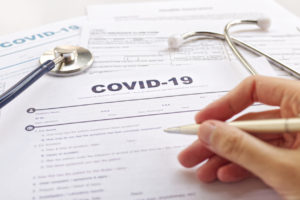 March 30, 2020 – As the nation battles the COVID-19 pandemic, 340B hospitals are playing a major role in providing care to all patients, especially those living with low incomes and those in rural communities that traditionally have been underserved. 340B hospitals are on the front lines of this response. 
Lawmakers in Washington recognize the importance of these hospitals to the pandemic effort. Congress has been shoring up resources needed by safety-net hospitals and modifying some of the regulatory barriers allowing health care professionals to confront the enormous task at hand. 
The historic Coronavirus Aid, Relief, and Economic Security (CARES) Act, approved by the Senate and House and signed into law by President Trump, contains vital investments in the health care safety net, including:
$100 billion for a Public Health and Social Services Emergency Fund to eligible health care providers for health care-related expenses or lost revenue attributable to COVID-19;  
Temporary elimination of the two percent Medicare sequester payment cuts from May 1, through the end of 2020;  

A delay in scheduled cuts to disproportionate share (DSH) payments by Medicaid through Nov. 30;  

A 20 percent increase in Medicare hospital payments for care of COVID-19 patients;  

A mandate that private insurers cover COVID-19 testing, treatment, and any potential vaccine; and  

Expanded use of telehealth by rural hospitals and health centers.  
These additional resources will be welcomed by safety-net providers who are either caring for a large influx of COVID-19 patients or readying themselves for a sudden surge in patients. While shoring up their capacity to treat those patients, they are cancelling or delaying elective procedures and losing revenue. Decisions about how to spend the $100 billion emergency fund will be left to Health & Human Services (HHS) Secretary Alex Azar. The department will create an application process and is promising rapid implementation. 
More Regulatory Support Needed 
While the CARES Act doesn't make any changes to the 340B drug pricing program, policymakers are considering additional support to help safety-net providers who participate in 340B. During the debate over the CARES Act, lawmakers from both sides of the political aisle highlighted the need for more regulatory flexibility during the pandemic.  
Sen. Ben Sasse (R-Neb.) offered an amendment that would have paused all 340B eligibility determinations in fiscal years 2020 and 2021 to ensure hospitals maintain their participation status during the public emergency. Because congressional leaders decided to proceed on the legislation without considering amendments, Senator Sasse withdrew it. But his pursuit of this provision sends an important message to regulators.  
Similarly, Rep. Brian Higgins (D-N.Y.), whose upstate New York district includes seven 340B hospitals, sent a letter to the head of the Health Resources & Services Administration (HRSA) asking the agency to pause all 340B audits until the crisis has abated. Congressman Higgins, who represents the Buffalo-Niagara Falls area that has six 340B hospitals alone, noted: "Preparing for and undergoing 340B program audits requires significant time and attention by multiple departments within a hospital."  
340B Health recently sent two letters to HHS leaders asking for regulatory changes to assist safety-net hospitals during this crisis. This would include a delay of all audits and temporary changes to eligibility to prevent hospitals from losing 340B discounts if their patient case mix changes due to treating larger numbers of insured patients affected by COVID-19. While official responses to those letters have not yet been received, the HRSA Office of Pharmacy Affairs (OPA) has told hospitals they will consider audit delays when requested on a case-by-case basis.  
One further indication of the impact the pandemic is having on policymakers' priorities is the delay in a decision by the White House Office of Management & Budget (OMB) on whether to approve a survey of 340B hospitals on their Medicare drug acquisition costs. HHS sent the survey to OMB for final approval on Feb. 11, and the survey process was supposed to start on March 23. The Centers for Medicare & Medicaid Services (CMS), which would conduct the survey, has said it is reassessing its plan.  
The response to the COVID-19 pandemic has only begun, and the need for further support from Washington is evident to hospital administrators and policymakers alike. As the response to the emergency ramps up throughout the country, so will the need to stay aware about developments that could provide more assistance to safety-net hospitals on the front lines.