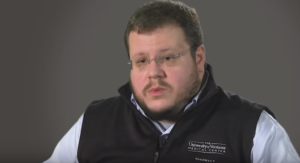 March 5, 2020– 340B hospitals know firsthand the downward spiral that can come about from high and rising drug costs. Patients with low incomes, especially those who are uninsured or underinsured, increasingly struggle to afford the prescription medications they need. As a result, they don't take the medications as directed, or worse, they skip taking the drugs altogether. Their health conditions decline, which only heightens the need for more costly interventions.
The University of Vermont Health Network is one safety-net provider that is using 340B to help patients pull up and out of this spiral. The seven-hospital system serves both rural and urban areas of Vermont and northern New York. One of those hospitals, The University of Vermont Medical Center, has enrolled about 1,000 patients in its 340B-funded drug cost assistance program, says Nathan Awrich, network director of the system's pharmacy supply chain.
Nathan is the latest profile in our Faces of 340B series. Using 340B discounts, the center significantly discounts or provides at no cost the critical medications to patients who otherwise would face hundreds or thousands of dollars in out-of-pocket drug costs that would make them less likely to stay on the medications they need. He says many of the patients enrolled in the assistance program in recent years are Medicare Part D patients who were having trouble affording their long-term, costly medications once they hit a coverage gap known as the "donut hole." Even though Congress approved legislation that largely has closed this gap, there now is a period in which seniors are expected to pay 25 percent of their drug bills until they've spent enough out-of-pocket that the catastrophic coverage in the drug plan kicks in.
Nathan remembers a patient with an autoimmune condition who was covered by Medicare Part D and needed to take Humira, which underwent a more than seven percent price increase at the start of 2020. The health system enrolled the patient in its 340B-subsidized drug cost assistance program, and the patient has been able to afford the medication.
"We're very happy that of those 1,000 people, many of them would have no alternative if they didn't have our assistance and allow them to take these life-altering medications that they couldn't obtain," Nathan said.
Going Beyond Paying the Drug Bills
340B's effect on The University of Vermont Health Network's patients doesn't end with cost assistance. Nathan explained how 340B savings also have helped The University of Vermont Medical Center build individual hospital rooms, because research has demonstrated that individual rooms are better for the safety and quality of care patients receive compared to shared rooms.
340B also makes a big difference to the operation of the system's rural hospitals, some of which struggle to bring in enough revenue to cover the cost of delivering care. Program savings are helping fund an array of critical services at these hospitals, such as emergency departments, specialty services, and primary care. Nathan says the health system would need to make tough choices about which services it could afford to maintain if the 340B program experienced cuts.
"It would be very unfortunate and a hardship that would be painful for many of our patients if we lost the program," Nathan said.
Check out Nathan's video profile on our Faces of 340B page.