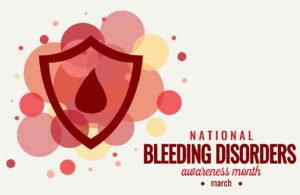 March 10, 2020 – National health observances have associated red with February, when Valentine's Day brings awareness campaigns related to heart health. But for 340B covered entities and other health providers, red also is a popular color in March because it demonstrates support for patients during National Bleeding Disorders Awareness Month.
The Centers for Disease Control & Prevention (CDC) reports that more than three million Americans have bleeding disorders, including hemophilia and von Willebrand disease. These patients can experience serious trouble with blood clotting following an injury or surgery, and they can face life-threatening complications as a result.
That's why the 340B drug pricing program for decades has helped patients with bleeding disorders access critical care and services. Just like certain safety-net hospitals, community health centers, and other safety-net clinics, hemophilia treatment centers (HTCs) are covered entities under the 340B program. Using the savings that they access through 340B drug discounts, HTCs can expand the vital services they provide to their patients.
Organizations such as the Hemophilia Alliance and the National Hemophilia Foundation spend time in March encouraging people to spread the word about bleeding disorders and encourage donations for more research and education. To show their support, advocates wear a red tie. Covered entities use the occasion to reflect on how 340B savings have helped their patients control their conditions and live healthier lives.
The Highest Standard of Care
Hemophilia Alliance President and CEO Joe Pugliese is one of the leading advocates for patients with bleeding disorders who understands how important 340B is for treating these diseases. The alliance he leads represents federally funded HTCs that have pharmacy programs eligible for 340B. Joe notes that 340B savings enable HTCs to fund many of their staff positions and implement the clinical care model of services that is considered the standard of care worldwide. That care model has been shown to reduce morbidity and mortality of bleeding disorder patients by 30 to 40 percent.
Pugliese has met many patients whose health has benefited from 340B's assistance, and he shared one such story in his Faces of 340B profile. Vincent Fusaro, president and director of the Alliance Pharmacy in Westbury, N.Y., has been treated for hemophilia at HTCs since he was a child. Because of the care Fusaro has received, he has been able to have a successful career as a pharmacist and to help other patients like him by advocating for HTCs, Joe said.
The services 340B provides for patients with bleeding disorders goes well beyond directly treating their conditions. Michael Recht, MD, PhD, the director of the Hemophilia Center at Oregon Health & Science Center, describes how his center uses 340B savings to hire staff that help patients overcome challenges related to their conditions.
"We have a psychologist that helps address the mental health issues of our patients," said Recht. "We [also] have an educational specialist who helps our kids thrive in their schooling."
Partnership Among 340B Providers
HTCs are not alone in their mission to help patients with bleeding disorders live healthier lives. Safety-net hospitals also work to improve these patients' health outcomes, sometimes through teaming up with other centers to help them provide even more services.
LCMC Health in New Orleans has used 340B savings to partner with the Louisiana Center for Bleeding and Clotting Disorders. Together, the two organizations care for hundreds of patients in the New Orleans area. Through this partnership, patients visiting the center housed at LCMC Health's University Medical Center not only see a doctor but also can meet with a hematologist, nurse educator, social worker, physical therapist, dentist, and research nurses.
Success stories such as these remind us that patients with bleeding disorders can live healthier and more productive lives with the help of 340B. That's worth celebrating not only this month, but also year-round.