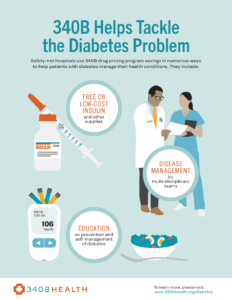 May 8, 2020— The threat of chronic diseases such as diabetes has not taken a break during the nation's response to the COVID-19 pandemic. More than one in 10 Americans are living with diabetes, with typically underserved populations hit hard not only by the disease but also by the life-threatening complications that can come with it. The pandemic only serves to make the situation worse, as diabetes is a significant risk factor for a poor COVID-19 health outcome. Fortunately, safety-net hospitals are on the case, especially those participating in the 340B drug pricing program.
A new report from 340B Health demonstrates how these hospitals are using their program savings to provide innovative services that meet the full range of patients' needs for diabetes care and prevention. Our report provides seven case studies from six states describing the role these hospitals play in taking on the challenge of diabetes in their communities and documenting their success. Those results come in the form of improved health outcomes when patients living with the disease receive the medication, education, and other support they need to manage their health conditions.
How do hospitals do this? Prominent across all seven organizations are programs that use 340B savings to help low-income patients access free and reduced-cost insulin, a drug critical to managing diabetes and avoiding complications, as well as glucometers and other supplies. But they do not stop there. They also form multi-disciplinary teams that work together on disease management for their patients. And they provide education on how patients can self-manage their conditions or prevent their health from worsening if they are at risk for diabetes.
340B is a key part of making that happen.
Measures of Improved Health
The diabetes programs at the 340B hospitals profiled in the report each feature their own approaches based on the needs of the communities they serve. But they all operate with the same mission of achieving measurably improved health outcomes for their patients with diabetes.
The success stories these health providers tell are very encouraging:
CHI Franciscan Health in Washington State vastly improved glycemic control levels for thousands of patients over the course of a year through its insulin access program and coordination among its pharmacy and clinical teams – for one group of patients the improvement was a whopping 72 percentage points
Community Regional Medical Center in Fresno, Calif., reduced unnecessary emergency department utilization through its American Diabetes Association-accredited care center and medical home that provide services to hundreds of patients every year, including medication assistance, bilingual education, and disease management
Ellis Medicine in Schenectady, N.Y., saved their uninsured and underinsured patients an average of more than $300 a month on medications offered through the community benefit program it operates at its two dedicated endocrinology clinics
MedStar Franklin Square Medical Center in Baltimore reduced hospital readmissions by more than seven percentage points, compared to a control group, for patients with diabetes who received their enhanced bedside education and case management services prior to discharge
UMass Memorial Medical Center in Worcester, Mass., increased medication adherence for patients with diabetes to 98% and lowered average per-prescription out-of-pocket expenses to $5 by embedding pharmacy liaisons within the endocrinology department who reduce administrative burdens of caregivers and ensure patient access to needed drugs
University of Utah Hospital in Salt Lake City improved its percentage of diabetes patients achieving glycemic control by an additional seven percentage points over a year when compared to a control group by supporting those patients through pharmacists embedded in its primary care clinics
Utah Valley Hospital in Provo, Utah, has reduced unnecessary hospital admissions and significantly cut patient drug costs by offering discounts on more than 20 types of insulin and providing free diabetes kits at discharge for pediatric patients with new onset diabetes
Healthier Patients, Better Lives
The programs at these seven hospitals are tangible and powerful examples of 340B in action. But they are not the only examples out there; safety-net hospitals throughout the U.S. are directing the benefits of the program to where chronically ill patients need them the most.
By increasing medication adherence, improving glycemic control, and reducing hospital admissions, 340B hospitals are improving the health of patients with diabetes and enabling them to live better lives. That work will continue during the COVID-19 emergency and well beyond the end of the pandemic.