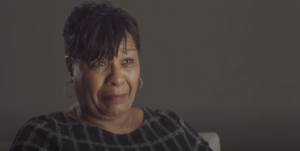 May 15, 2020 – Patient Debra Abercrumbie remembers that when she first came to MetroHealth in Cleveland, her hemoglobin A1C levels were "out of control," and she would need to start managing them better if she were going to improve her health while living with her diabetes. Fortunately, MetroHealth had the medication assistance and care coordination that she required, in large part because of the 340B drug pricing program.
Debra is retired and living on a fixed income after a career with the U.S. Postal Service. She was having trouble managing her blood glucose levels because she struggled to obtain insulin in a timely manner from a retail pharmacy and found the monthly co-payments to be too costly. But when she went to MetroHealth's pharmacy, she was pleasantly surprised to learn that she could receive the same supply of insulin she needed for less than $10, significantly less than what she had been paying. 
"I was floored to hear about that," Debra said. But the good news did not stop there. She also learned that she could receive a significant discount on the syringes she needed for her insulin, giving her the benefit of "savings on top of savings," she said.
Debra is the newest profile in our Faces of 340B series. With MetroHealth offering her a large discount on her medications and supplies and using a team of clinicians to coordinate her care, she was able to manage her A1C levels and keep her diabetes in check. The system could offer this support with the help of its 340B savings, which go toward direct patient assistance as well as expanded services for its patients.
Key Support for Patients with Diabetes
Debra's story is not unique. More than 10% of Americans are living with diabetes, and numerous reports in recent years have covered the heartbreaking struggles many of those patients face when they cannot afford the insulin and other critical medical supplies they need to survive. In too many cases these patients are skipping doses of their insulin, which can result in serious health declines or death. One recent study concluded that 25% of patients with diabetes are not taking as many doses of insulin as they should due to the cost. 
The 340B program is one major resource that safety-net hospitals are using to reverse that trend. Our newest 340B Health report profiled some of the many 340B hospitals that are using their program savings to help patients with diabetes manage the disease, including by offering free or reduced-cost insulin to patients with low incomes.
The fact that MetroHealth is one of the health systems offering this help has made a world of difference for Debra. She no longer is concerned about whether she will be able to afford her medications or if she is at risk of falling off her drug regimen because of the cost. That means she is managing her diabetes much better than she was before the health system came into her life.
"I personally feel I have gotten better health," Debra said.
Check out Debra's video profile on our Faces of 340B video page.