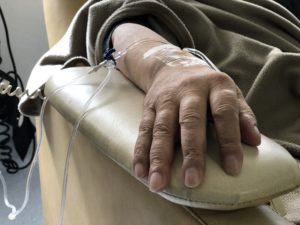 June 25, 2020— Although cancer can sicken and kill people of all races and ethnicities, disability statuses, and socioeconomic levels, it is a documented fact that members of certain underserved populations are more likely to have problems accessing cancer treatments and to have worse health outcomes. It is also a documented fact that hospitals participating in the 340B drug pricing program are more likely to be the places where these patients turn for the care they need.
According to the National Cancer Institute (NCI), 1.8 million people are diagnosed with cancer in the U.S. every year. This year, more than 600,000 Americans are expected to die of some form of cancer. NCI also reports that people living in lower-income counties are more likely to die of cancer than those living in higher-income counties. In addition, the American Cancer Society (ACS) reports that African Americans have the highest death rate and shortest survival of any racial/ethnic group in the U.S. for most cancers. Cancer is the leading cause of death among Hispanics, accounting for 21% of deaths.
The 340B program helps tackle these big problems. A new issue brief commissioned by 340B Health analyzed Medicare claims to conclude that 340B hospitals treat significantly higher percentages of cancer patients who are living with low incomes, are disabled, or are members of racial/ethnic minorities than non-340B hospitals or physician offices. The report also shows that this is not a new or passing phenomenon; figures utilizing 2018 data were consistent with an earlier, similar analysis using claims from 2013 and 2014 as well as a recent report from the Medicare Payment Advisory Commission (MedPAC)
Some of the comparisons are striking. The proportion of cancer patients treated at 340B hospitals who identify as Black or African American is 78% higher than those receiving care at non-340B hospitals. The share of cancer patients at 340B hospitals receiving Medicare disability benefits is 67% larger than it is at physician offices. And 340B hospital cancer patients are 57% more likely to qualify for both Medicare and Medicaid because of their lower income levels than those seeking treatment at hospitals that do not participate in the drug pricing program.
340B Discounts as Cancer Care Investments
None of these conclusions will come as a surprise to cancer care providers working at our nation's safety-net hospitals. After all, the 340B facilities that the report focuses on are called disproportionate share (DSH) hospitals, which mean they already treat a minimum percentage of patients whom the government considers low-income or indigent.
Moreover, many 340B hospitals invest their program savings directly into their oncology programs because they are services that patients in their communities urgently need. They often include specialized care that is costlier to deliver to certain patients than it brings into the hospital in revenue. Hospitals and physician offices that do not have access to drug discounts that can offset these losses might not be able to make services to patients with low incomes financially sustainable, elevating the importance of the 340B hospitals that do.
Our Faces of 340B video profile series has dozens of examples of hospitals that offer cancer care with the help of 340B savings. The patients living with cancer who come through their doors might not know exactly how the 340B program helped give them access to that care. But many do know that those hospitals might be the only nearby options they have for the cancer treatments they need.