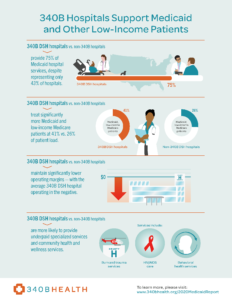 July 16, 2020— New research shows that disproportionate share (DSH) hospitals that participate in the 340B drug pricing program provide 75% of Medicaid hospital services. That figure is even more impressive when you consider that these facilities make up only 43% of all acute care hospitals.
This conclusion is one of several key findings in 340B Health's new report exploring the role that 340B hospitals play in serving patients living with low incomes. The study focuses on patients who are eligible for Medicaid as well as Medicare enrollees whose low incomes qualify them for Supplemental Security Income (SSI). These patients historically have faced significantly higher barriers to care and experienced substantially worse health outcomes than those with higher incomes.
It is clear from the study that these patients rely heavily on 340B hospitals to obtain the care they need. 340B hospitals don't just take on much higher percentages of these patients in the first place; they also are more likely to provide types of specialized care to their communities that are considered essential. These services include burn and trauma care, HIV/AIDS care, and behavioral health services that might be available nowhere else in the area.
340B Helps Pay the Costs of Delivering Care
340B hospitals incur great costs in providing this essential care to patient populations in great need. Medicaid significantly underpays health providers for delivering care, especially for some of the specialized services that other hospitals do not offer. When a much larger percentage of a hospital's patient population is made up of Medicaid enrollees, that underpayment becomes much more pronounced as hospitals struggle to cover the care delivery bills.
That is one of the big reasons why the savings that hospitals obtain through 340B are so important to maintaining such a level of vital care. Even with 340B drug discounts, DSH hospitals participating in the program have consistently and significantly lower operating margins across all hospital size groupings. In fact, the average margin for these hospitals is in negative territory, meaning many facilities are operating in the red.
The fact that many 340B hospitals can do so much with so little is a testament to their patient care missions. It also is another demonstration of how vital the 340B program is to the success of those missions.
Read the full report and see an infographic summarizing its main findings.