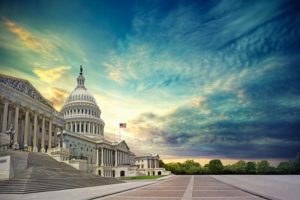 July 22, 2020— Congress returned to work this week after an extended July 4th recess for its final push for legislation before both chambers adjourn for a month-long recess in August. Key issues for 340B hospitals are on the table during this time.
Lawmakers will focus much of their attention on a third round of response to the COVID-19 pandemic. The package is expected to focus on continued economic support to unemployed Americans, aid to state and local governments, money for testing and contact tracking, and possible legal protections for employers from lawsuits over COVID infections.
For hospitals, the major focus is on another round of economic support for health care providers. Congress already has appropriated $175 billion in such aid in the two major bills it passed earlier in the pandemic. Much, but not all, of those funds have been expended to help hospitals and others offset the dramatic loss of revenue resulting from the need to postpone most non-emergency services and prepare for potential surges of COVID patients.
On May 15, the House passed the Heroes Act (H.R. 6800), which includes an additional $100 billion for hospitals and other health care providers. The House bill, however, is not expected to proceed further because it does not have Republican support. The focus now is on the Senate, where Majority Leader Mitch McConnell (R-Ky.) is working on a package he may unveil this week. While McConnell has been keeping his cards close to his chest, the Senate bill is expected to include money for hospitals, too.
340B hospitals will be watching closely to see if the legislation that emerges contains language protecting hospitals from losing 340B eligibility due to changes in patient mix during the public health emergency. A bipartisan group of senators recently introduced legislation (S. 4160) that would prevent a 340B hospital from losing eligibility for the duration of the emergency period. The bill is authored by Sens. John Thune (R-S.D.), Tammy Baldwin (D-Wis.), Shelley Moore Capito (R-W.V.), Ben Cardin (D-Md.), Rob Portman (R-Ohio), and Debbie Stabenow (D-Mich.). The senators have asked McConnell and Senate Minority Leader Chuck Schumer (D-N.Y.) to add the proposal to the COVID package.
There also is bipartisan support in the House to include such language in a final COVID bill. More than 120 House members, led by Reps. Doris Matsui (D-Calif.) and Chris Stewart (R-Utah), sent a letter to House leaders asking them to support language protecting 340B hospitals. The supporters are hopeful that members of Congress from both parties and both chambers will work together to pass what Thune has called "common sense legislation."
In remarks earlier today to the 340B Coalition Virtual Summer Conference, Matsui said she will be introducing legislation soon that would address the 340B eligibility issue as well as 340B's policy prohibiting the use of group purchasing organizations (GPOs) by certain hospitals. The Health Resources & Services Administration (HRSA) has added some flexibility to the GPO policy, but lawmakers are looking to address that matter more fully in legislation.
While most of the attention has been on the COVID legislation, Congress also must decide how to handle bills to appropriate federal funds for fiscal year 2021, which begins on Oct. 1. The House Appropriations Committee recently approved a bill funding the Department of Health and Human Services (HHS), which oversees 340B. The committee report includes important language that is highly supportive of 340B. While it is not legally binding, the language is an important statement of congressional support for the program.
While individual spending bills have been making their way toward the House floor, it is not clear whether lawmakers will have time to work out agreements on final versions. They are more likely to pass a short-term deal to continue funding at current levels and come to a final agreement during a "lame duck" session of Congress following the November elections.