By Maureen Testoni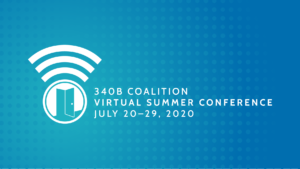 August 13, 2020 – In "Hamilton" – my favorite musical – performers describe Revolutionary-era America as "a world turned upside down." For many of us who work to support the health care safety net in the U.S., that feels like a very apt description of our current environment. A worldwide pandemic coupled with a historic economic decline has changed the lives of the low-income and rural patients who are the focus of our missions. Safety-net hospitals, clinics, and other health care providers also have struggled with the new reality of providing care during a public health emergency that has put major strains on the entire system.
This new reality was on the minds of the large number of attendees at the recent 340B Coalition Summer Conference. Typically, we would have been meeting in person in Washington, D.C., battling the 90-plus-degree temperatures to learn as much as we can about the changes affecting 340B covered entities. Instead, we gathered in front of our computers and mobile devices for the first virtual 340B Coalition conference in the program's 28-year history.
The distancing did not stop the professionals representing hospitals, health centers, and clinics from using the interactive conference technology to expand their knowledge of the 340B drug pricing program and share best practices during a time when the program is more critical than ever to the financial health of safety-net providers and the physical and emotional health of our patients.
In my opening remarks to attendees, I reported that 340B has played and continues to play a major role in the COVID response. 340B helps safety-net providers stretch their scarce resources, and this support is especially critical when those resources already are being stretched to their breaking points. We have heard from many providers about how they are marshaling their 340B savings to prepare for COVID patient surges, obtain needed drugs, ramp up testing capabilities, offset tremendous revenue losses due to postponement of non-emergency procedures, and continue providing relief to patients who cannot afford their care.
It is heartwarming to see that 340B continues to be a source of stability in an otherwise unstable situation. In some cases, savings from drug discounts have been the only constant source of assistance for keeping a hospital's doors open during the crisis, as it has for Labette Health in Kansas, the focus of a recent episode of our podcast, 340B Insight. It also was gratifying to hear from senior members of the Health Resources & Services Administration (HRSA) about how important they view 340B to be in this new world context.
Staying Focused on the Mission
COVID-19 was not the only topic that conference attendees discussed. After all, the business of caring for patients with low incomes and those living in rural areas continues to require running effective, compliant 340B programs. And that element of the patient care mission will continue long after the public health emergency ends.
Many of the more than 70 conference sessions covered a range of operations, compliance, and advocacy issues related to the 340B program. HRSA officials discussed some of the regulatory flexibilities they have implemented and walked through some changes to the annual 340B recertification process that starts for providers later this month. Providers described how they extend the reach of 340B savings beyond the four walls of the facility to bring needed care directly to patients in their communities. This includes the expansion of telemedicine at 340B facilities, an investment that is improving access to care for underserved patients during the pandemic and that will continue doing so after the emergency subsides.
And several conference presenters focused on how 340B providers are uniquely situated to help the nation combat the long-standing racial and ethnic disparities that affect our health system and that have drawn more public attention during the pandemic and recent protests. Expanding access to needed care to all residents of our communities is very much in line with both the patient missions of Coalition members and the stated intent of the 340B program.
Although the pandemic has forced us to maintain more physical distance, it is clear that the 340B community continues to be a tight-knit group that is united in our commitment to use the program for the best interests of the patients we serve.
Meeting the Challenges Ahead
The 340B program continues to face challenges, both old and new. Identifying and meeting them requires continued diligence on the part of all of us who advocate for the program. Conference sessions, roundtables, and online chats brought attendees up to speed on some of the most recent developments that have prompted concerns among 340B hospitals and clinics.
340B continues to be a hot topic on Capitol Hill. Reps. Doris Matsui (D-Calif.) and Chris Stewart (R-Utah), two longtime 340B champions in Congress, addressed the audience about their continuing efforts to protect the program. Attendees heard from federal government experts on what might lie ahead for legislative action in 2020 and beyond.
The administration also continues to view 340B as being on the table when considering drug pricing issues. This was made even more evident during the conference week, when President Trump signed an executive order aimed at requiring community health centers to pass along their 340B savings on insulin and EpiPens to low-income patients. Although we know that CHCs already invest their savings directly into patient care for people who cannot afford it, the development created another opportunity to dispel misconceptions about how the program operates.
And drug manufacturers have opened a new front in their campaign against the drug discounts that the 340B statute requires. Several companies have set their sights on 340B contract pharmacies and are making moves to restrict or cut off their access to discounted prices. Conference participants had numerous discussions about the potential next steps for countering these moves and preserving covered entity access to the program.
No matter the evolution of these 340B challenges, the conference again made it clear how important it is for 340B providers to continue conducting research showing the benefits to patients of 340B dollars and to keep telling their stories about how 340B has resulted in improved patient health outcomes.
It was so refreshing for me to see that in a topsy-turvy world, the state of 340B continues to be strong and the future of the program is more important than ever for those who rely on it the most.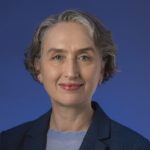 Maureen Testoni is the President and Chief Executive Officer of 340B Health