November 25, 2020 –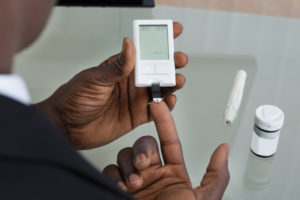 Chicago patient Hanan Tadros was struggling to manage her diabetes and her multiple other chronic conditions. That all started to change when she received diabetes education and medication therapy management services at UI Health in Chicago, resources available through the 340B drug pricing program.
"They taught me how to take my insulin and they taught me about diabetes," Hanan said. "It really helped me, and it's been seven years since I had one insulin shot."
Hanan and many other UI Health patients are the ultimate beneficiaries of the 340B savings that the health system uses to operate its Medication Therapy Management Clinic, where Hanan learned about how to manage the disease. The clinic is an uncompensated service for UI Health, but 340B enables it to maintain a staff of six pharmacists and a pharmacy technician who can take the time to provide the disease-specific education that patients need.
340B support is crucial to many of the more than 34 million Americans living with diabetes. Safety-net hospitals often invest their 340B savings into caring for patients with diabetes, and 52% of 340B hospitals report using 340B to operate a diabetes prevention program. 340B hospitals serve disproportionately large percentages of patients in populations with high incidence rates for diabetes. African Americans are 41% more likely than white non-Hispanic individuals to have been diagnosed with diabetes, and Hispanic individuals have a 10% higher diagnosis rate than whites. 340B hospitals have countless stories of patients with diabetes receiving access to insulin, medications, medical supplies, and management and education services, thanks to 340B.
As the nation recognizes National Diabetes Awareness Month, we reflect on the significant role 340B plays for patients with diabetes, especially patients who are uninsured, underinsured, or living with low incomes.
Overcoming Barriers to Insulin Access
In 2019, 340B Health wrote about the rapidly rising cost of insulin and the many Americans who are struggling to afford the lifesaving medication. Amid a global pandemic that is disproportionately affecting patients with diabetes, the high price of insulin remains a major problem today.
The American Diabetes Association found that the unemployment rate during the pandemic is higher for patients with diabetes, and this can have tragic consequences. The association reports that an estimated 650,000 patients relying on insulin are skipping injections or reducing their doses as the public health emergency continues. This is occurring as Eli Lilly, one of the major drug manufacturers of insulin, has tripled the price over the past eight years for its main insulin product, Humalog, to more than $270 for a single vial of the drug.
Rising costs for insulin highlight the need for 340B to help safety-net hospital patients afford the drug. 340B Health published a report in May about safety-net hospitals using their 340B savings to enhance care for patients with diabetes. The report profiled 340B hospitals using program savings to provide free or low-cost insulin to patients who are uninsured, underinsured, or living with low incomes.
One example from the report is Utah Valley Hospital, part of Intermountain Health. Utah Valley's 340B savings from community pharmacy partnerships have funded a diabetes medication access program that provides both short- and long-acting insulins, either orally or through injection. The medication access program enables any patient who expresses concern about affording insulin to automatically receive a free one-month supply. Once a patient submits federal income documentation, they can access a free six-month supply. On an ongoing basis, patients with incomes at or below 200% of the federal poverty level are eligible regardless of insurance status to receive a monthly supply of insulin for $20.
Utah Valley has seen the difference its program is making in the lives of its patients. One patient could not afford and access her prescribed insulin and was admitted to the hospital 33 times over a 14-month period. After the patient was enrolled in the diabetes medication access program, she has not been admitted to the hospital in the three years since.
Enabling Comprehensive Care  
To completely manage their diabetes, patients often need regular support services that go beyond offering them insulin or other medications.
This was the case for a patient at Avera Health System, based in Sioux Falls, S.D. Avera McKennan Hospital & University Health Center Director of Pharmacy Business and Analytics Jessica Larsen-Gallup said that the health system used 340B savings to send a  nurse coordinator to a patient's home who had been struggling for years to manage her hemoglobin A1C levels despite having access to insulin. As the nurse coordinator watched the patient inject herself, she discovered the problem.
"She realized that the patient wasn't even removing the cap from her pen and had not been injecting herself with her insulin," Jessica said. "Through that experience, we were able to help the patient control her disease."
For a patient with diabetes to successfully manage the disease, they often need to make carefully tailored diet and exercise lifestyle changes. Community Regional Medical Center in Fresno, Calif., has put 340B savings to work implementing a team-based Diabetes and Chronic Disease Medical Home. The multi-disciplinary team includes a medical director, nurse practitioners, registered nurses, social workers, medical assistants, and an outreach specialist working with patients who are frequently admitted to the hospital due to high hemoglobin A1C levels.
In 2018, the team provided more than 1,600 patients with a wide range of comprehensive services to improve their disease management, including training on what foods to eat and the role of exercise, at-home follow-up appointments to reinforce lessons, and transportation to and from appointments for patients with transportation access challenges.
Community Regional Medical Center says that without 340B savings, the services it provides patients at the Medical Home might need to be curtailed.
Achieving Results
340B hospitals managing 340B-funded insulin and medication access programs, disease management, and patient education programs are achieving improved patient health outcomes such as lower hemoglobin A1C levels and improved medication adherence. Among their accomplishments:
UI Health (Chicago) and its Medication Therapy Management Clinic reduced hemoglobin A1C levels by 0.63% for its patients with diabetes, which lowered their risk for cardiac problems, stroke, and vision challenges.
UMass Memorial Medical Center (Worcester, Mass.) embedded two pharmacists in its diabetes clinic using 340B savings and expanded its specialty pharmacy's capabilities to provide testing supplies and continuous glucose monitors. As a result, patients working with the diabetes clinic have a 98% medication adherence rate.
University of Utah Health (Salt Lake City) and its medication management program supported by 340B savings connects patients with a team of dieticians, endocrinologists, family physicians, and others to manage and focus on dietary, diagnostic, and other disease management needs. A greater percentage of patients in the program have achieved glycemic control versus a control group.
Diabetes remains one of the most prevalent diseases in the U.S., especially for patients from underserved communities, making this month's awareness campaign even more vital. However, with the support of 340B, safety-net hospitals are providing comprehensive diabetes programs that help patients manage the disease and live healthier lives.