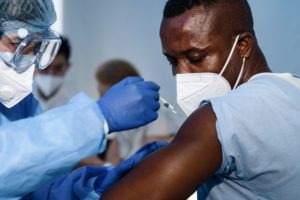 December 30, 2020– Americans and people around the world are marking the end of 2020 with glimmers of optimism as they observe the beginning of what will be a monumental immunization campaign against COVID-19. Safety-net hospitals, including many of those participating in the 340B drug pricing program, already are playing an important role in the U.S. effort. These hospitals and their pharmacy staff help form the vanguard that will bring about the end of this global crisis.
The first person in the U.S. to receive a COVID-19 vaccine under an emergency authorization was Sarah Lindsay, an intensive care nurse at Long Island Jewish Medical Center in New York. LIJ is part of Northwell Health, a system with several hospitals that participate in the 340B drug pricing program and that are members of 340B Health. "I have seen the alternative and do not want it for you," she said. "I feel like healing is coming. I hope this marks the beginning of the end of a very painful time in our history."
Hospital pharmacists and other pharmacy department staff have been integral parts of the vaccination effort, from preparing for the receipt of the vaccine to planning its distribution to administering the shots themselves. In an episode of our 340B Insight podcast earlier this month, Northwell Health System Director of 340B Danielle Sestito described how her system had built a cold-chain infrastructure for receipt and storage of the vaccines, as well as how they were working closely with federal, state, and local leaders on the distribution plan. A week after the episode came out, Northwell was administering the first doses.
Within hours of that historic event, pharmacists and other health professionals at 340B hospitals throughout the country were both administering and receiving the first doses in what health officials are calling the most comprehensive vaccination effort in the nation's history. When Scott Milner, PharmD, the senior director of pharmacy at St. Luke's Health System in Idaho, received the word that the first vaccine shipment had arrived with his name on the shipping label, he put out a post saying that "I cannot recall a phone call in my working life that I have had more anticipation for." A few days later, he posted a photo of dozens of empty vaccine vials, noting that he was in awe of the number of front-line health care workers lining up to receive their shots.
The first front-line worker to line up for the vaccine administered by pharmacists at MetroHealth, a 340B hospital in Cleveland, was Sherrie Williams, MD. Dr. Williams is a pulmonary and critical care specialist who also is the chair of the 340B Health Board of Directors. She highlighted the great stakes involved in this effort by noting that one of her COVID patients in the intensive care unit had died that morning and that another had died the previous night. "This is the right thing to do because it's our best hope for preventing disease. Our best hope to keep people from dying," she told the assembled media.
Health officials have described the development, testing, and production of a vaccine in less than a year as being something akin to a miracle. Some pharmacists at 340B hospitals have been able to make that miracle stretch even further. Erin Fox, the senior pharmacy director of drug information and support services at the University of Utah, described receiving a call from staff pharmacists who had realized that the levels of vaccine vial overfill they were seeing meant they could salvage additional doses than the amount expected. The Food and Drug Administration since has informed hospitals that it is acceptable for them to use the extra doses for additional recipients.
Public health experts expect that it will be months before everyone seeking a COVID-19 vaccine will be able to receive one, but the effort is well underway to deploy what some are describing as "the weapon that will end the war." As we head into a new year with renewed hope for the nation's health, we draw solace from knowing that 340B hospitals, pharmacists, and other health staff are helping to lead the way into that brighter future.